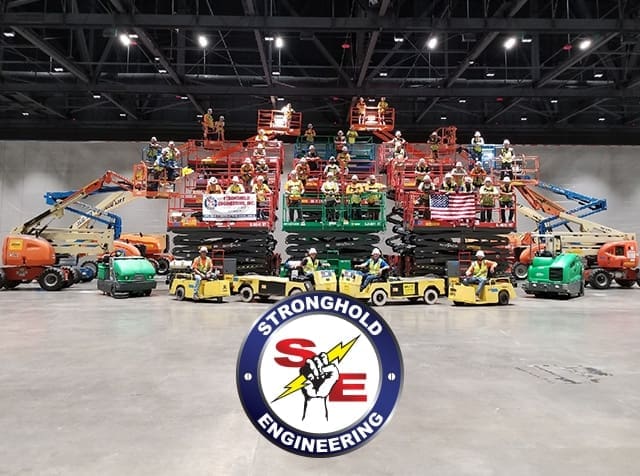 Riverside, CA.
Stronghold Engineering, Inc. of Riverside announces that it is nearing the end of construction of the fast-paced San Jose Convention Center Exhibit Hall Lighting and Ceiling Upgrades Project in San Jose. The almost $19 million project began in July and has been fast-tracked for a September completion. The current Convention Center opened in 1989 and underwent a significant expansion project in 2013, but due to changing needs of high-tech corporate clients and the desire to attract large-scale events, the San Jose Public Works department and Team San Jose, the city's operator of the center, scoped out a project to meet the requirements of the client while boosting the local economy. Today's convention clients prefer the open industrial look of exposed ceilings rather than acoustic tiles and the open concept makes it easier to locate structural hang points for complex rigging used to support lights and speakers, fixtures and video screens, and other items that clients demand of a venue. In addition to upgrading the structural components to meet current codes and improve performance standards, Stronghold also upgraded the lighting and controls, and fire suppression and alarm systems.
"The client City of San Jose and the end user Team San Jose were great to work with.The Stronghold Team along with all the Subcontractors came together and were very committed to the timeline of this project from the start. We are thankful for the opportunity for a timely delivery on this project."
– David Gollinger / Stronghold Engineering Project Manager.
This construction once again pairs Stronghold with the global design firm of CannonDesign. This Design-Build team completed the more than $100 million seismic and safety renovation of the Federal Building in Downtown Los Angeles and are also currently teamed on the renovation across the street at the Edward R. Roybal Federal Building and Courthouse.