As both an invaluable safety precaution and an industry standard requirement at the state and federal level under OSHA, conducting First Aid/CPR safety training is a top priority at Stronghold Engineering.
In September 2021, our team hosted a First Aid/CPR safety training course to ensure our employees are equipped with the knowledge they need to maintain a safe construction environment. Stronghold Engineering upholds the regulatory provisions in our company Injury Illness Prevention Program with full enforcement and requires employee certification to make sure we are prepared when it comes to First Aid/CPR safety.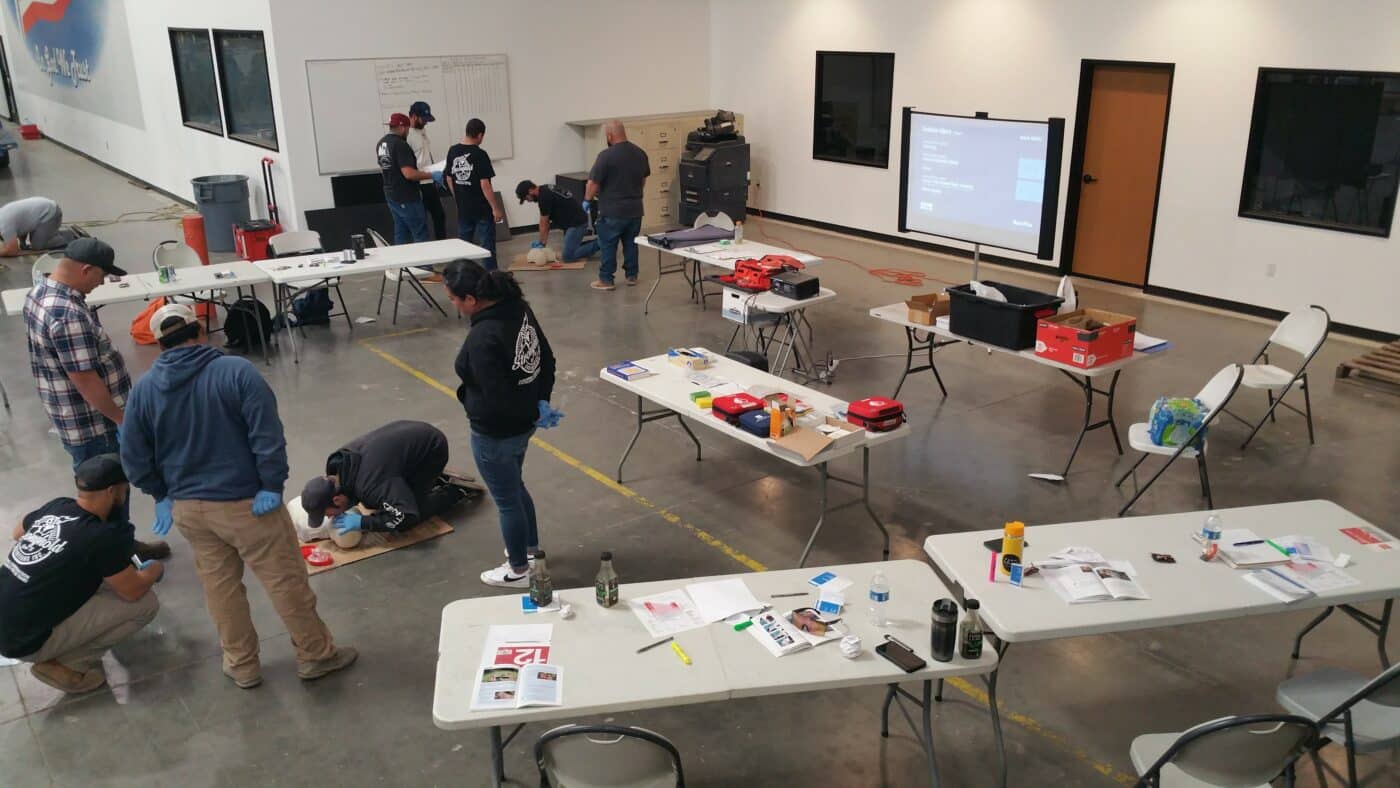 Goals of CPR Safety Training
Our primary goal for hosting First Aid/CPR safety training was to ensure members of our team are prepared in emergency situations to assess and provide treatment for victims. We strive to exceed industry expectations of worksite immediate availability and train First Aid-CPR certified personnel who can render lifesaving services prior to EMT arrival.
The importance of providing First Aid/CPR safety training extends beyond field projects and applies in our office and any other worksites. Our project superintendent and foreman, as well as other field employees, are required to be First Aid-CPR certified when they work on jobsites. In our office, the telephone extension sheet lists the employees who are First Aid-CPR certified.
Training and Learning Activities Involved in the CPR Safety Training Course
Instructive Video Modules
As directed by our instructor, our team participated in video modular sessions about victim assessments, illness treatments, EMT responses, and more.
Hands-On Demonstration
Next, our team participated in hands-on demonstrations of CPR using manikins. We also participated in a hands-on demonstration of the use and care of automated external defibrillators (AED units).
Question & Answer
We participated in a question and answer session regarding emergency assessments, response, and treatments, allowing our team to ask various questions pertaining to their training.
Group Coaching Sessions
Our instructor coached us in groups on primary assessments and EMT responsibilities, ensuring we knew which steps to take in the event of an emergency. We also discussed injury and illness prevention and treatment.
Learn Check and Quiz
Lastly, we participated in a learning check and quiz to demonstrate our understanding of the training and acknowledge our ability to perform CPR if needed.
Quantifiable Outcomes
As a result of our training, 13 of our employees were trained in September and an additional 16 employees were trained in November, each during our 5-hour CPR safety sessions. In total, 29 employees became certified to perform First Aid and CPR during a three-month period, which certifications will last for the next two years.