It's been another eventful year for Stronghold Engineering, as we've pushed through 2022, continued to work on major construction contracts, won several prestigious awards, and were voted by our team members as Best Contractors to Work For as well as an Inclusive Workplace. Here's a look at the main events of the past year for our company and team members.
Awards
Stronghold Awarded National Excellence in Construction Pyramid Award
In March, Stronghold Engineering announced that its work on the Huntington Library Showcase Battery Project in San Marino, California earned a national Excellence in Construction® Pyramid Award, presented during ABC Convention 2022 in San Antonio, on March 16. The EIC awards are the construction industry's leading national competition that honors general and specialty contractors for world-class, safe and innovative construction projects from across the nation.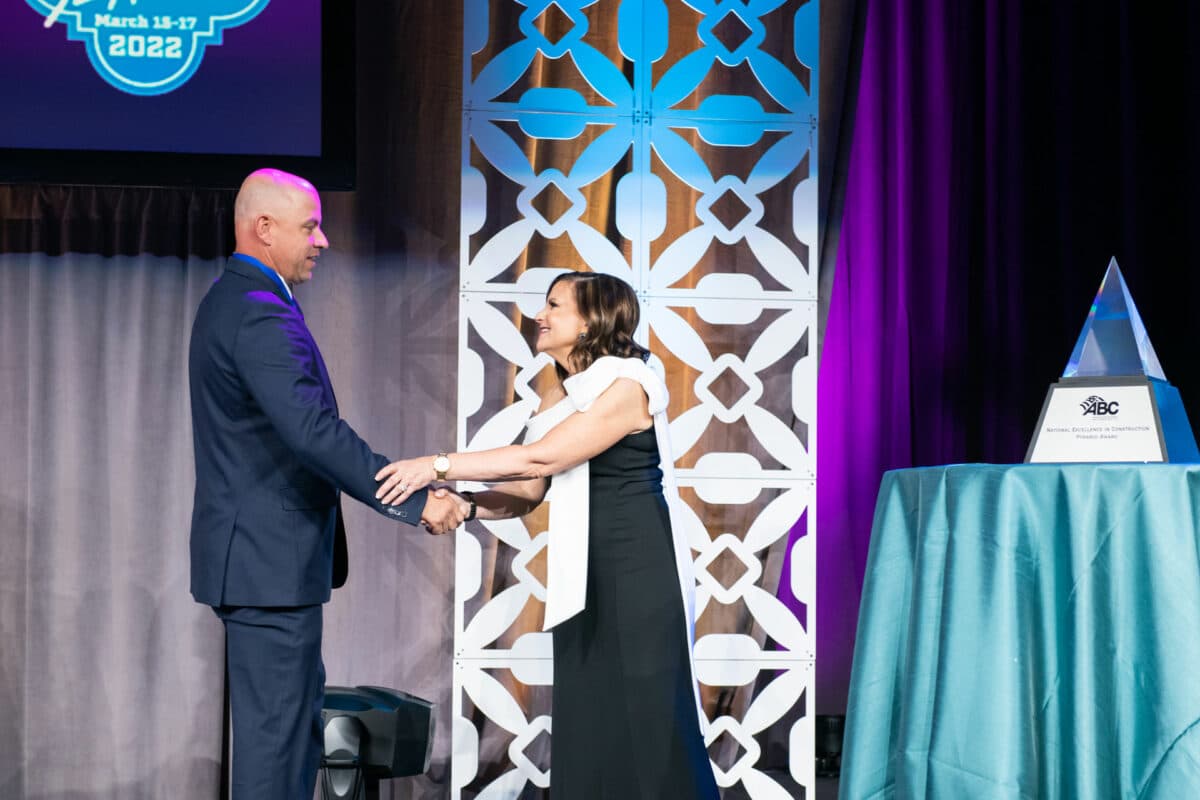 Stronghold receives the National Pyramid Award
Stronghold Honored as a Top US Solar Installation Company
In July, Stronghold was honored by its inclusion in Solar Power World's list of Top US Solar Installation Companies. Solar Power World ranked Stronghold at No. 203 in its "426 Top Solar Contractors" list. These rankings are compiled according to the number of kilowatts installed during the previous year. In 2021, Stronghold's solar field workers installed a total of 6,042.78 kW of solar power across all projects and installed 41,166.52 kW of solar power historically.
In addition, we ranked high on some other Solar Power World lists, including:
#45 —Top CA Contractors
#81 — Top Solar EPCs
#85 — Top Commercial Contractors
Stronghold Wins 2022 Regional Excellence in Construction Awards & STEP Gold
This November, Stronghold received 2 awards at the ABC Southern California Chapter Excellence in Construction celebration.
The team was given award for their work on the UCR Campus Solar Roof Initiative: Regional Eagle Award for Category – General Contractor> Institutional> Less than $5 million.
Thanks to this award at a local level, Stronghold also was able to submit the UCR Campus Solar Roof Initiative project for recognition at the National level.
Our team also received recognition for our ongoing efforts in the development of a quality safety program by achieving STEP Gold classification through ABC's STEP Safety Management System. As one of our core values, Safety, is one of Stronghold's top priorities.
Stronghold Awarded C&I Rooftop Project of the Year for University of California, Riverside Solar Rooftop Initiative Project from Solar Builder Magazine
On December 5, 2022, Solar Builder Magazine announced their Project of the Year Awards. From a select field of nominees from a pile of submissions, the reader base of solar industry pros voted for the projects that impressed them the most. We are proud to announce that Stronghold's University of California Riverside Solar Rooftop Initiative Project was selected as this years C&I Rooftop Project of the Year!
Solar Builder's Project of the Year Awards are a celebration of the solar industry. The hard work of construction teams and installers, the creativity of engineers, the leadership of developers and the dedication of so many local businesses, government agencies and nonprofits are all on display. The Project of the Year Awards are also a reminder of what more can be done. How a supportive policy or forward-thinking corporation can make all the difference not just for the distributed generation of electricity but for bringing about social justice and building a new local workforce.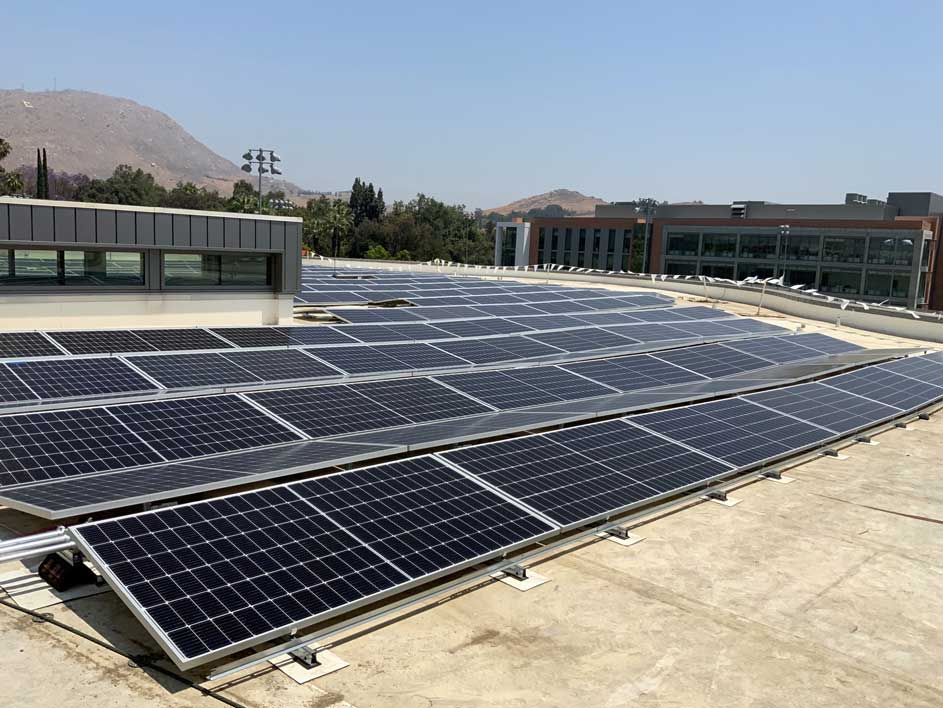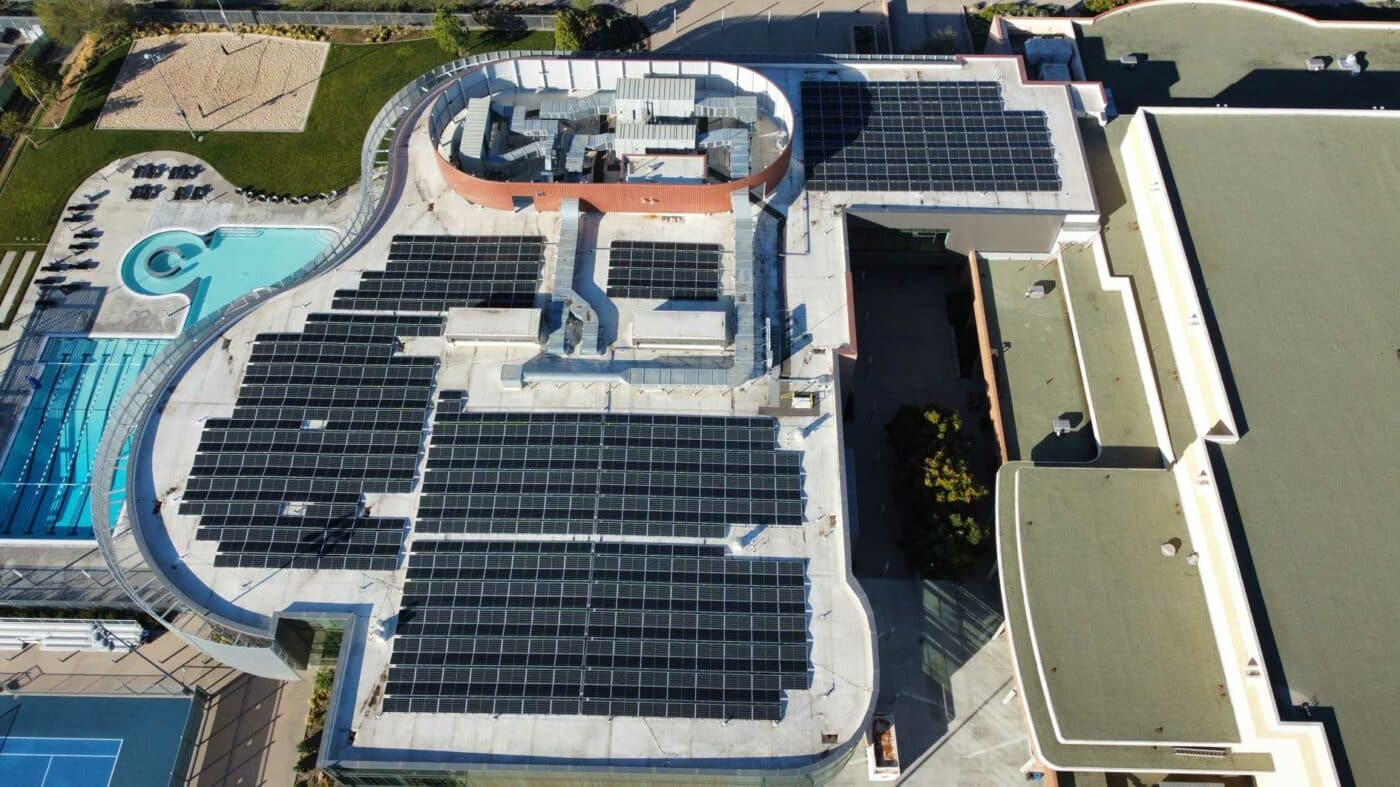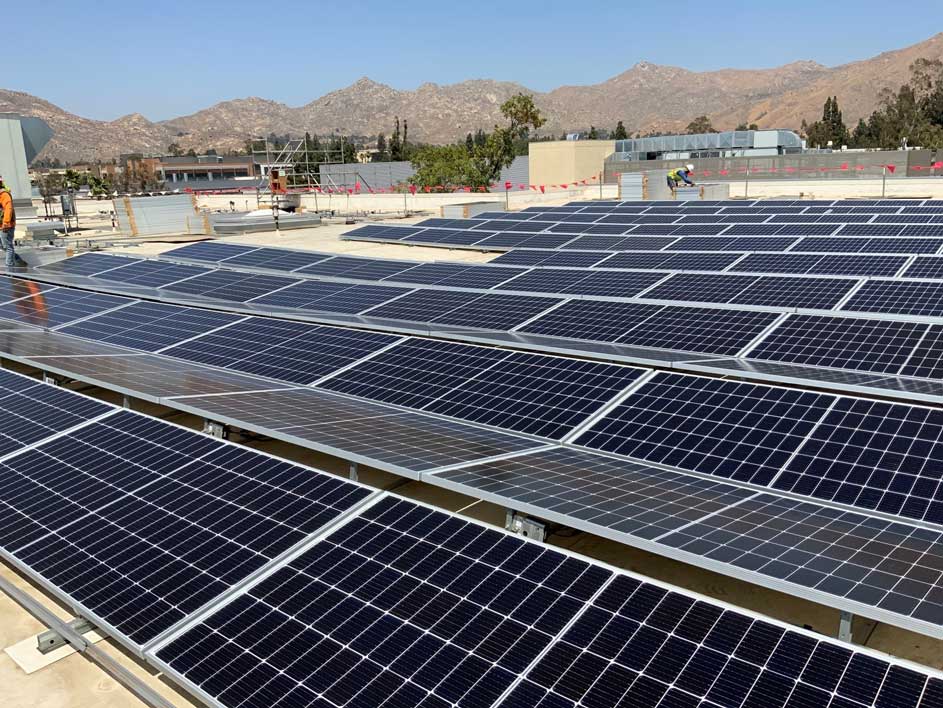 Stronghold Named One of 2022's Best Contractors to Work for in Construction
This October, our Stronghold family was named as one of the 2022 Best Contractors to Work for in Construction. The annual list of the Best Contractors to Work for in Construction was created by Concrete Contractor, Equipment Today, Asphalt Contractor and Pavement Maintenance & Reconstruction and Best Companies Group.
This national survey and awards program is designed to identify, recognize and honor the best places of employment in Construction, benefiting the industry's economy, workforce and businesses. The 2022 Best Contractors to Work for in Construction list is made up of 18 companies. Stronghold employees nominated their employer for the award by filling out a survey. Stronghold is proud to have earned this industry-specific, nationally-recognized award.
Employees were asked the question, "What does this organization do that makes it a place where people would want to work?" 55 team members gave Stronghold glowing reviews, noting the company's incredible work-life balance, the emphasis placed on team unity, and frequent events for the team and their families.
Stronghold's core values—quality, safety, teamwork, integrity, and commitment—truly shape employee experience. The survey results were filled with mention of the company's culture and how they contribute to the familial environment, strong ethics, and mutual respect that the employees love.
Stronghold Named An "Inclusive Workplace"
Stronghold Engineering is proud to announce that it has been recognized as an "Inclusive Workplace" by Best Companies Group, a workplace culture and employee engagement expert, and COLOR Magazine, a leader in corporate inclusivity.
"We are so proud to have been designated as an Inclusive Workplace. Diversity and inclusivity is very important to the ethos of our company, so it is very meaningful that our team has acknowledged this company as a Inclusive Workplace" said President/CEO, Beverly Bailey of Stronghold Engineering, Inc.
The "Inclusive Workplace" recognition is based on employee feedback gathered from a thorough and independent survey that gauges employee's perceptions on workplace inclusion and belonging. Companies are evaluated based on their survey results and only those that earn a high score are eligible for this prestigious recognition.
Stronghold Named Accredited Quality Contractor by ABC
Stronghold Engineering has been recognized by Associated Builders and Contractors, Inc. (ABC) as a 2022 Accredited Quality Contractor (AQC). AQC members proudly set the construction-industry standard as highly performing, ethical contractors and members of their communities. AQC status is determined by a stringent and thorough set of criteria that demonstrate commitment to five key areas of corporate responsibility: quality, safety, talent management, craft and management education, and community relations.
Annual recertification is required to ensure all participants uphold and maintain the rigorous set of AQC standards, including:
Quality-based industry honors and third-party recognition;
Maintenance of an effective company quality control program;
Financial stability and adequate bond status;
A strict safety environment, including Total Recordable Incident Rates (TRIR) at or below the industry average; a robust safety training program in adherence with the company's corporate safety manual; consistent performance of pre-work job hazard analysis;
Participation in ABC's STEP safety Management system (ABC STEP Gold, Platinum or Diamond level required);
Continued craft and management education;
Highly competitive employee benefits and programs, civic involvement, and policies that foster nondiscrimination and a substance-free workplace.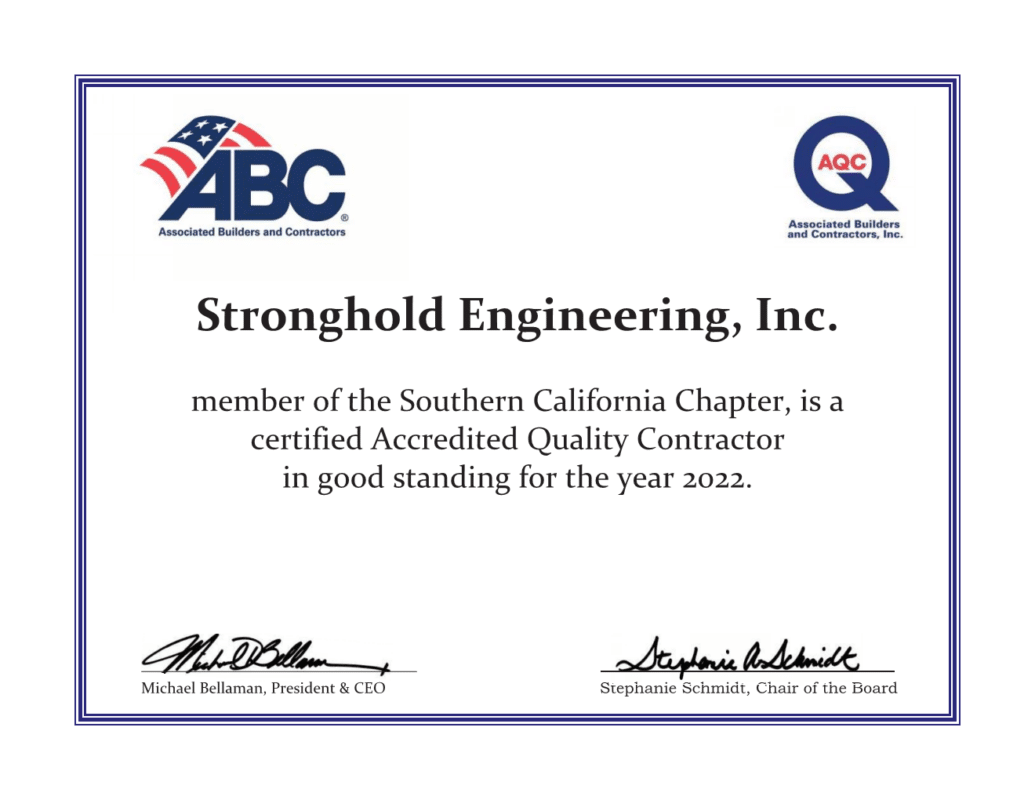 Showcase Projects
Oscuro Siding Track Extension
Stronghold Engineering Inc. was hired to extend a section of rail siding just northeast of Oscuro, New Mexico. In rail terminology, a siding rail refers to a low-speed track section that is distinct from a running line or through route. Siding rails are often used to allow one train to pass another or to simply store excess rail cars.
Stronghold was tasked with constructing a setout track along the existing siding between Mile Posts 840.33 and 840.69, which is situated in Lincoln County, New Mexico just northeast of the sleepy town of Oscuro. Mile Posts are the geographical measures of a railroad line which allow train crews to properly locate sections of track, which is critically important along nondescript stretches of land such as in this project.
To properly support the new track, the project also requires the formation of new embankments and the full replacement of three (3) older, existing culverts. Work such as this, while somewhat unglamorous in nature, truly helps keep the wheels of the economy going. Our nation's railroads move over one third of all US exports and they account for over 40% of the nation's long distance freight transport.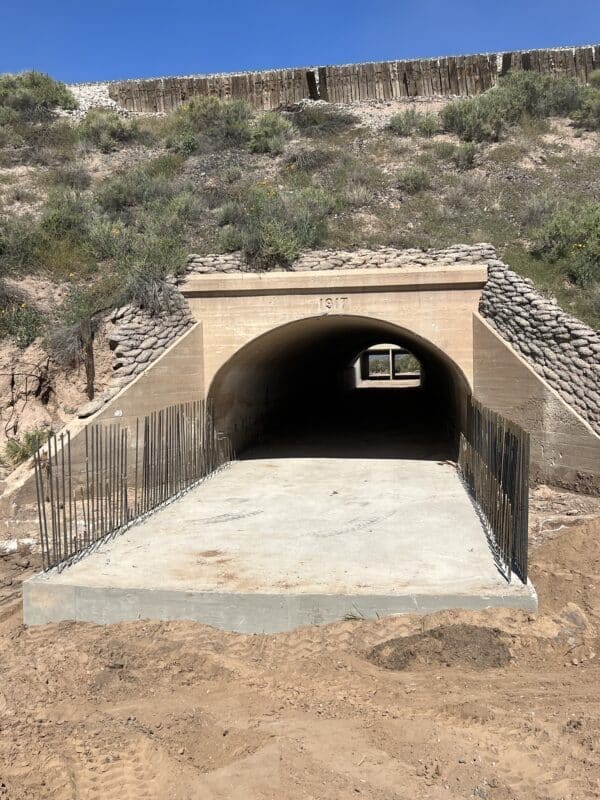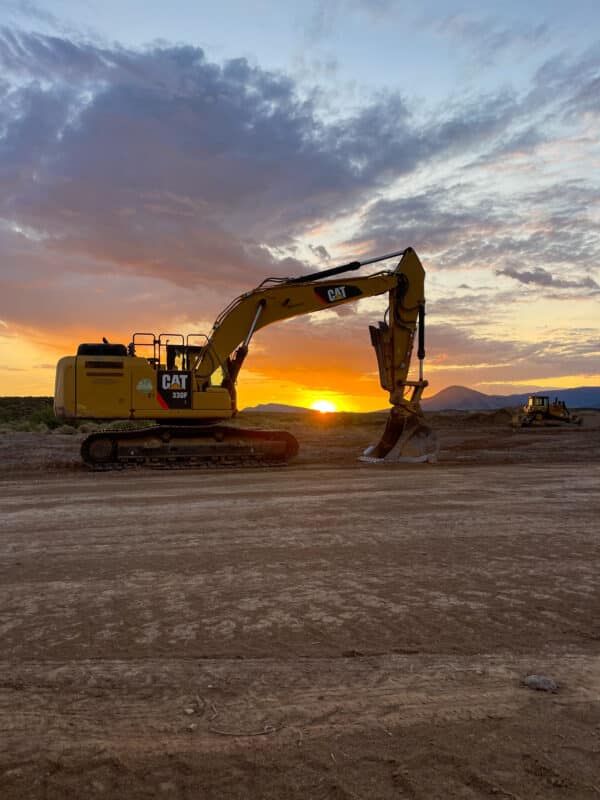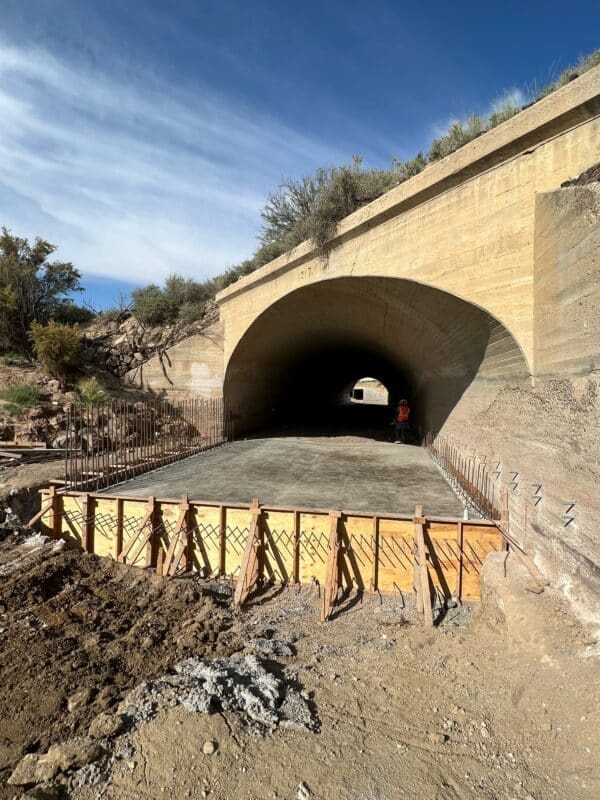 Plant 42 Air Traffic Control Tower
2022 saw the close of Stronghold's $17 million build of a 160-foot Air Traffic Control Tower at Plant 42 in Palmdale, CA. The tower included features of work of drilled shaft foundations, buckling-restrained brace frames, floor slabs, emergency power, fire protection/detection, an elevator with access control systems, plumbing, HVAC and new parking lots. With a strong showing at a dedication ceremony on November 30, 2022 and a total of 79,391 man hours of safe work with no incidents, we are happy to have provided a quality product for USACE.
Ironwood State Prison
Stronghold continues its construction work on a chilled water plant that's designed to feed a new chilled water loop for Ironwood State Prison in Blythe, CA. Stronghold is also working on replacing the prison's fire alarm and HVAC systems, which is projected to be completed in 2023. Stronghold's largest project to date at $140 million.
Ironwood State Prison Project

Caltrans Fontana Maintenance
Stronghold continues its work on Caltrans' first design build project on their site in Fontana, CA. Stronghold is constructing a new Caltrans Maintenance Facility in the city of Fontana with use of 6.6 acres. The project includes an office building to accommodate four roadway maintenance crews, machine equipment parking space, two fuel tanks for CNG (Compressed Natural Gas) and unleaded fuels, two vehicle charging stations, shop/equipment storage buildings, backup generator, wash rack, trash enclosure, parking lots, infiltration basin, etc.
VA LA Dietetics Building 300 Seismic Replacement
Stronghold continues its work on VA LA Design Build $35 million project building an approximately 29,000 BGSF two-story facility, including rooftop mechanical equipment and solar panels, housing food preparation, storage, distribution functions and administrative offices service the future Essential Care Tower (ECT) as well as select remote locations. A service yard and loading dock areas supporting the building functions, site work associated with the project and underground service and utility connections linking the facility to the future Hospital and CUP.
Farm House Collective
Stronghold began work in 2022 on a renovation of a 1953 built motel in Riverside, CA on University Ave, the Farm House Motel. A city historic landmark, this project will renovate the motel into 15 eateries and retail shops with an outdoor dining, new construction restaurant, new construction restroom, stage and beer garden space. This Farm House Collective project is set to open in Fall of 2023.
San Joaquin Regional Rail Commission
The base bid scope of work on the San Joaquin Regional Rail Commission, a $35 million project, included construction of the Maintenance Building Expansion to eight-car consist length, Service and Inspection Expansion to ten-car consist length, and the New Parts Storage Building that will span approximately 17,000 square feet. In addition to these aspects, Stronghold will be remodeling the Mezzanine Storage Area into additional office space.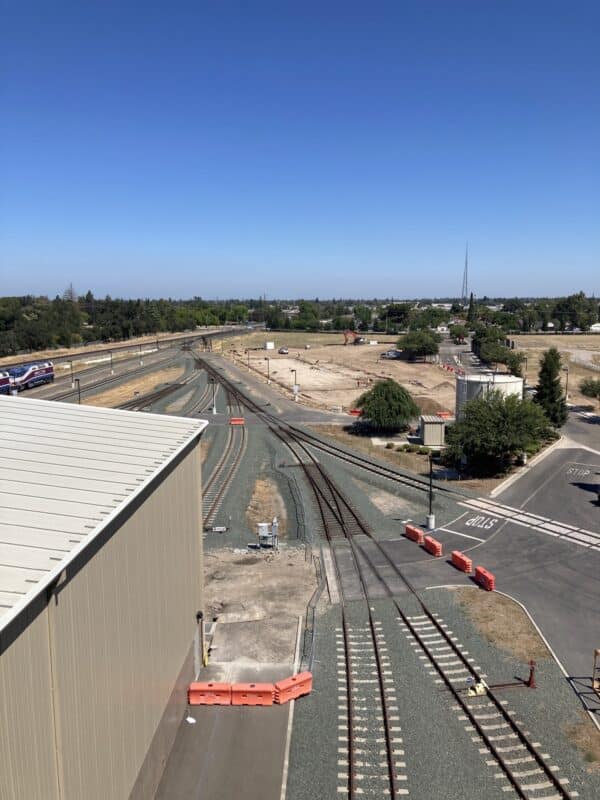 North Portland Junction Upgrade
Stronghold Engineering's Rail and Civil division completed work on this $11 million joint project between Burlington Northern Santa Fe Railroad (B.N.) and another railroad to increase the track speed on the line running through Portland, Oregon, easing the radius of the merge between B.N. and and the other lines, alleviating the majority of the commuter traffic bottlenecks that currently occur on the B.N. line.
The N Portland JCT Upgrade Project consists of ground stabilization near railroad tracks, in an effort to be able to build a T-Wall on top of the stabilized ground. To stabilize the ground, Stronghold used deep soil mixing (DSM) techniques, where our crew drills deep into the ground, injects grout, and mixes with the material already in the ground. However, since the ground stabilization is nearby railroad track beds, Stronghold needed to install temporary shoring to ensure that the stability of the track bed is not compromised.
To achieve this, Stronghold's crew installed H-piles on both sides of the track bed, and drilled coil rods through the track beds. Our crew then installed lagging into the H-piles, to create temporary walls, somewhat "sandwiching" the track bed in between the two walls. Afterwards, they put up walers on both walls, with the coil rods running through the walers. Using hydraulic pressure jacks attached to the walers and coil rods, Stronghold pulled the coil rods, tightening the tension on the walls, allowing us to safely excavate for the DSM work, without compromising stability.
Once the DSM work was complete and the T-Wall is built, the temporary shoring was taken down, leaving us with stable ground and a T-Wall. Afterwards, Stronghold built a soldier-pile wall on a different side of the project site, with a chain link fence on top.
Stronghold Charity Committee
The Stronghold Charity Committee, which is completely employee funded and employee ran, continues to support various local organizations. Throughout the year, we've raised money for the Big Brothers Big Sisters, American Cancer Society, Blindness Support Services, as well as for our own SEI families in need. We also participated and completed several successful community projects like Feeding America Fall Food Drive, Rotary Perris Turkey on Wheels and built a playground for Jacob N. with Make-A-Wish Foundation.
At Stronghold, we're proud of our team members and grateful to every one of them for helping us achieve new heights this past year. With their help, hard work and support, Stronghold is looking forward to another banner year in 2023.