It's been an eventful year for Stronghold Engineering, as we've navigated the challenges of 2021, worked on major construction contracts, won several prestigious awards, and even celebrated a pivotal milestone in our company history. Here's a look at the main events of the past year for our company and team members.
Awards
Stronghold Awarded 1st Place Safety Award by CSEA
In March, Stronghold Engineering was chosen as the 1st place winner in the AGC of California 2020 Construction Safety Excellence Awards (CSEAs), in the "Special Contractor Division-Under 500,000 Worker Hours" category.
This distinguished award recognizes construction companies who are superior at safety performance, and who consistently maintain the highest level of safety within the working environment. Stronghold is deeply honored to have been selected as the winner of this prestigious award.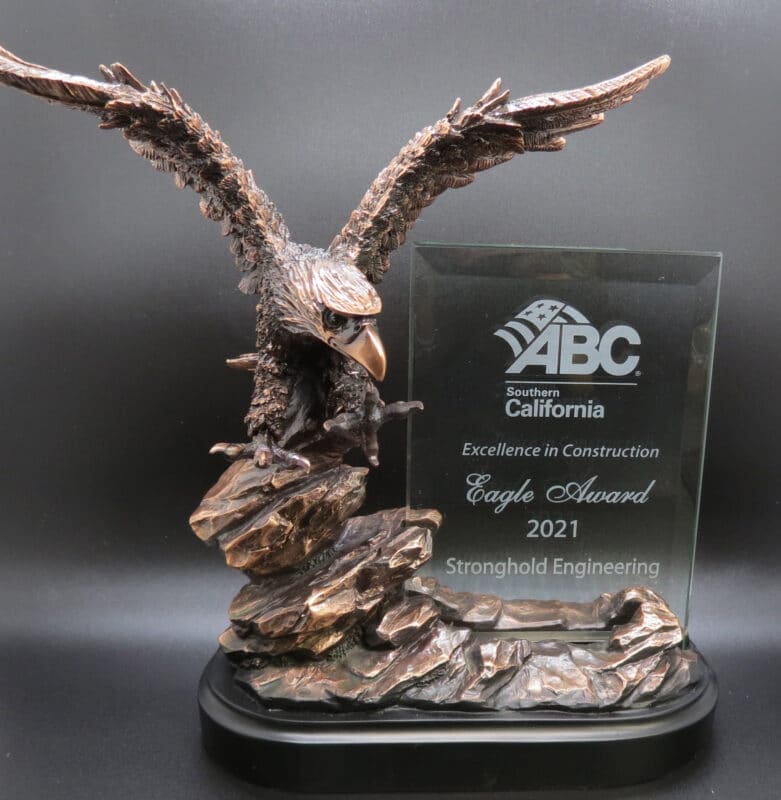 Stronghold Honored as a Top US Solar Installation Company
In July, Stronghold was honored by its inclusion in Solar Power World's list of Top US Solar Installation Companies. Solar Power World ranked Stronghold at No. 156 in its "400 Top Solar Contractors" list. These rankings are compiled according to the number of kilowatts installed during the previous year. In 2020, Stronghold's 217 workers installed a total of 7,631.98 kW of solar power.
In addition, we ranked high on some other Solar Power World lists, including:
#40 —Top CA Contractors
# 59 —Top Solar & Storage Installers
# 57 — Top Solar EPCs
# 65 — Top Commercial Contractors
Stronghold Wins 2021 Excellence in Construction Awards
This November, Stronghold Engineering won the high distinction of receiving two ABC Excellence in Construction awards from the Southern California Chapter. Our team was awarded for the following projects:
Regional Eagle Award (General Contractor, Industrial, $15 to $25 million) for the Wellfield Emergency Generators project
Regional Eagle Award (Specialty Contractor, Electrical, Commercial, Less than $2 million) for the STEM Huntington Library project.
Stronghold is honored to have been chosen for these important awards at the local level, and have submitted both of these projects for recognition at the national level as well.
Stronghold Celebrates Our 30th Anniversary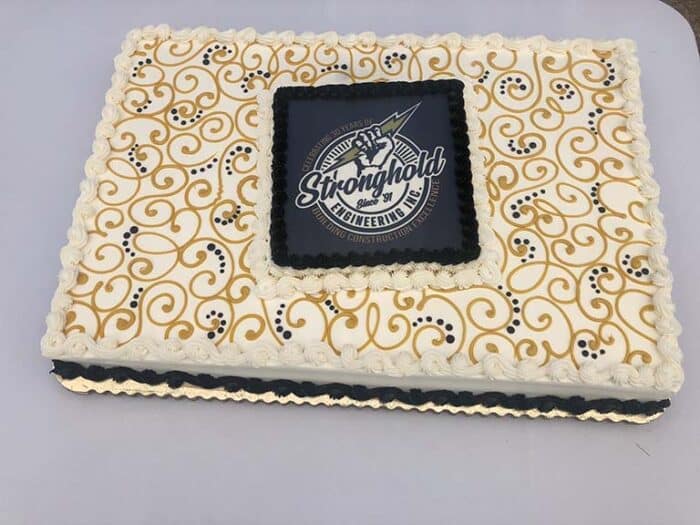 This October, our Stronghold family celebrated the 30th anniversary of our founding in 1991. To help us celebrate, Cal Contractor Magazine awarded Stronghold Engineering with an impressive front-page spread in its September issue.
The feature profiled our founders/owners, Beverly and Scott Bailey, and our Director of Business Development and Special Projects, Alyssa Digangi, citing them as exceptional examples of entrepreneurship and leadership within the industry. 
Additionally, Stronghold was featured in TME Magazine, Engineering News-Record, and the National Engineering News-Record.
We're grateful for this honor, and we're also grateful for the opportunity to have served our industry and community for the past three decades.
Showcase Projects
Plant 42 Air Traffic Control Tower
In October of 2020, Stronghold Engineering began construction on the Plant 42 Air Traffic Control Tower in Palmdale, CA. The $17 million, 60-foot air traffic control tower features drilled shaft foundations, buckling-restrained brace frames, floor slabs, emergency power, fire protection/detection, an elevator with access control systems, plumbing, HVAC and new parking lots.
2021 was a productive year for the project, including: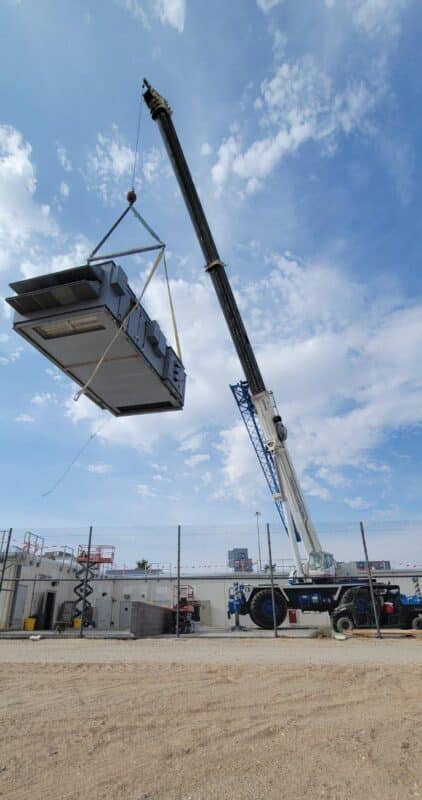 Installation of the building foundation and structure which included 50' deep, 8' diameter piers at the corners, 6' tall grade beams, and the structural steel for the building. Concrete placement for all 13 floors.
Steel stud framing and sheathing for exterior walls, interior wall framing, and shaft wall framing of all the MEP chases.
Underground installation of electrical, communications, fire water, and water.
Rough in for electrical, mechanical, and plumbing for all floors.
Installation of the mechanical yard with equipment pads.
Ironwood State Prison
Stronghold continues its construction work on a chilled water plant that's designed to feed a new chilled water loop for Ironwood State Prison in Blythe, CA. Stronghold is also working on replacing the prison's fire alarm and HVAC systems, which is projected to be completed in 2022.
Caltrans Fontana Maintenance
In May 2021, Stronghold began work on Caltrans' first design build project on their site in Fontana, CA. Stronghold will establish three new buildings next to existing facilities and add various enhancements to the property that are on Caltrans' wish list.
Stronghold plans to meet a completion deadline of March 2023.
San Joaquin Regional Rail Commission
The base bid scope of work on the San Joaquin Regional Rail Commission, a $35 million project, included construction of the Maintenance Building Expansion to eight-car consist length, Service and Inspection Expansion to ten-car consist length, and the New Parts Storage Building that will span approximately 17,000 square feet. In addition to these aspects, Stronghold will be remodeling the Mezzanine Storage Area into additional office space.
Elements of construction for the project include but are not limited to: 
Demolition
Earthwork
Utilities
Concrete
Asphalt Paving
Masonry
Pre-Engineered Metal Building
New Rail Trackwork
Mechanical
Electrical
Plumbing
Compressed Air
CCTV
HVAC
Fire
Insulation
Framing
Metal Work
Racking
Storage
Specialty Equipment
Signage
Coatings
Painting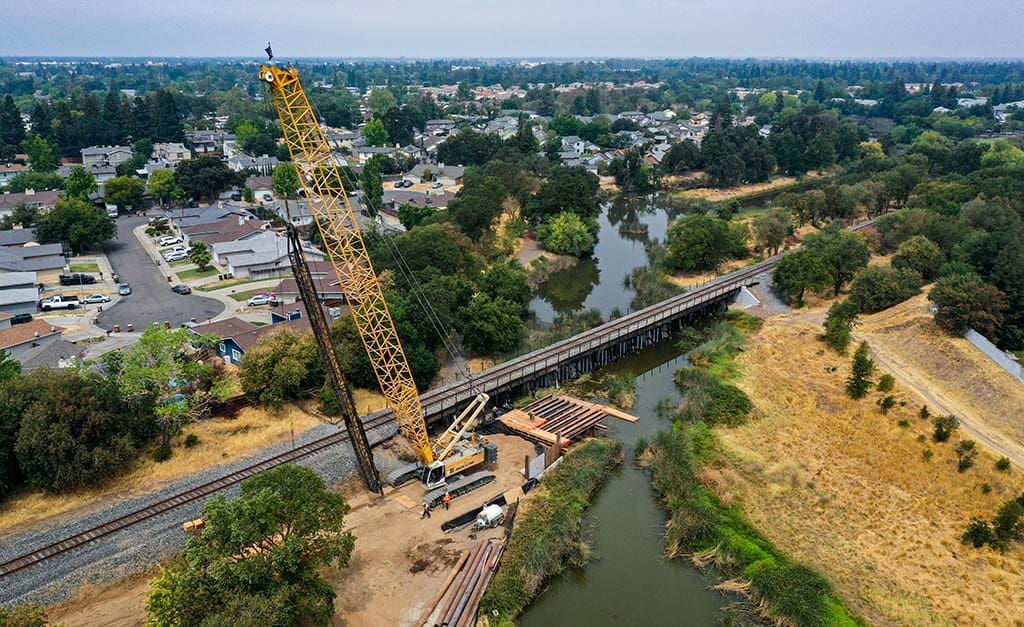 Work on the San Joaquin Regional Rail Commission will commence January 18, 2022 and is projected to be completed July 10, 2023.
Fresno Bridge Job
In Northern California in 2021, Stronghold replaced a bridge that supports the UPRR tracks over Laguna Creek in Elk Grove, California. Working just 15 minutes south of the State Capitol in Sacramento, the team built a trestle in order to maneuver a crawler crane fitted with a soundproofed diesel pile hammer to ensure that the local community wasn't disturbed.
Using the crawler crane, the team drove approximately 33 hollow section, 24″ steel tube piles into the ground for support while the current bridge is in operation until the change out and replacement of the bridge deck.
Stronghold Charity Committee
The Stronghold Charity Committee continues to support various local organizations. Throughout the year, we've raised money for the Blythe Cancer Resource Center and Blindness Support Services, as well as for our own SEI families in need.
At Stronghold, we're proud of our team members and grateful to every one of them for helping us achieve new heights this past year. With their help, hard work and support, Stronghold is looking forward to another banner year in 2022.