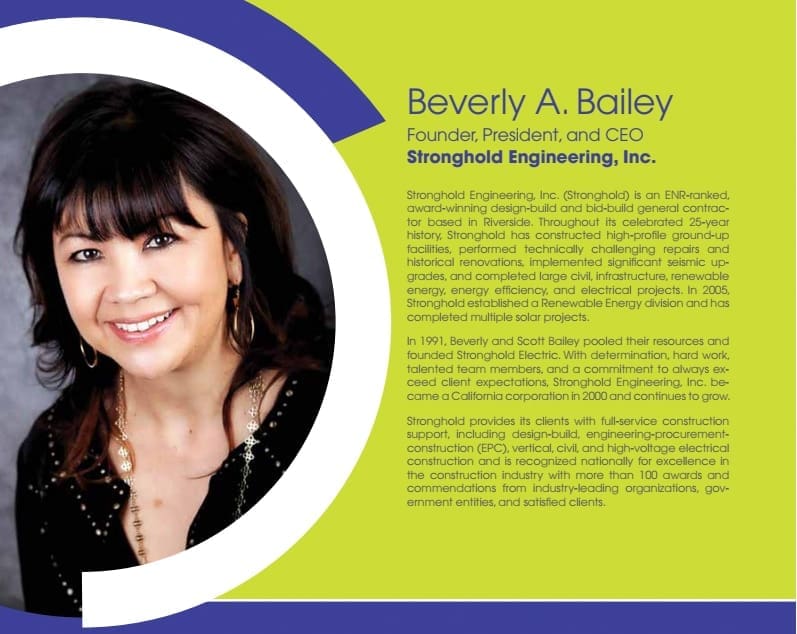 11/02/2017
Beverly A. Bailey, President and CEO of Stronghold Engineering, Inc., a minority-owned, women-owned Riverside-based general construction contractor was recently featured as one of the 100 Women Leaders of STEM published by STEMconnector®.
STEMconnector® the member based organization focused on eliminating the STEM talent gap released its 100 Corporate Women Leaders in STEM publication during the opening lunch of Million Women Mentors Summit and Awards, last week at The National Press Club. The publication features corporate women who offer their unique perspective on issues facing America's STEM workforce. As visionaries, these 100 corporate women offer a unique perspective on the challenges and opportunities surrounding a diverse, strong, STEM pipeline. Their insights will drive the action going forward. These responds to the need to identify champions that can relate to women considering going into STEM careers, as well as
America's STEM workforce is at a critical juncture; the need for critical leadership on the part of all stakeholders could not be more vital. With women and minorities being so underrepresented in STEM fields, the education system falling short of meeting the demand of a 21st century economy, and the United States edge on innovation, the need for action is urgent. As leaders of major companies with involvement in STEM fields, these 100 CEOs are uniquely placed to provide exemplary leadership on these issues. 
Edie Fraser, Chief Executive Officer of STEMconnector® shared, "We are proud to highlight 100 corporate women leaders and recognize their leadership and excellence. The role of women in STEM becomes critical to business and innovation. These role models are change leaders.  Special thanks to Lorena Fimbres, VP & Chief Business Development Officer, and team, for leading this series and contributing to STEMconnector®'s position at the forefront of STEM thought leadership."
Each honoree is profiled across a two-page spread, and their thought-provoking reflections on STEM education, workforce development, public-private partnerships, and diversity in STEM will influence the national conversation regarding these issues. 100 Corporate Women Leaders in STEM is a STEMconnector® publication sponsored by Boeing, Credit Suisse, Deloitte, Diversified Search, Sprint and Tata Consultancy Services. 
About Stronghold Engineering, Inc.
Stronghold Engineering, Inc. (Stronghold) is an ENR-ranked, award-winning design-build and bid-build general contractor based in Riverside County. Throughout its celebrated history of 26 years, Stronghold has designed and constructed high-profile ground-up facilities, performed technically challenging repairs and renovations for historical and non-historical facilities, implemented significant seismic upgrades, and completed large civil, infrastructure, renewable energy, energy efficiency, and electrical projects. In 2005, Stronghold established a Renewable Energy division to lead the way in the sustainable solar industry and has since completed multiple solar projects for entities such as county, municipal, military, and public utilities, who selected Stronghold's energy solutions as a means of reducing ever-rising energy costs.
In 1991, Beverly Bailey and Scott Bailey pooled their resources and began doing business as Stronghold Electric. With determination, hard-work, a talented group of team members, and a commitment to always exceed client expectations, Stronghold Engineering, Inc. became a California corporation in 2000 and continues to thrive, grow, and diversify.
About STEMconnector. STEMconnector® is committed to increasing the number of STEM-ready workers in the global talent pool. Owned by Diversified Search, LLC, STEMconnector provides a platform to engage leaders in both public and private sectors who collectively are re-envisioning the workforce and identifying strategies to increase the number of STEM-ready workers. STEMconnector's goal is to inform, stimulate, counsel and connect leaders with a passion for and commitment to closing the STEM-ready gaps. To learn more about STEMconnector contact Lorena.Fimbres@STEMconnector.com 
About Million Women Mentors. An initiative of STEMconnector, Million Women Mentors is the gender movement that supports the engagement of millions of STEM mentors to increase the interest and confidence of girls and young women to enter and succeed in STEM programs and careers. To learn more about Million Women Mentors contact Lorena.Fimbres@sTEMconnector.com