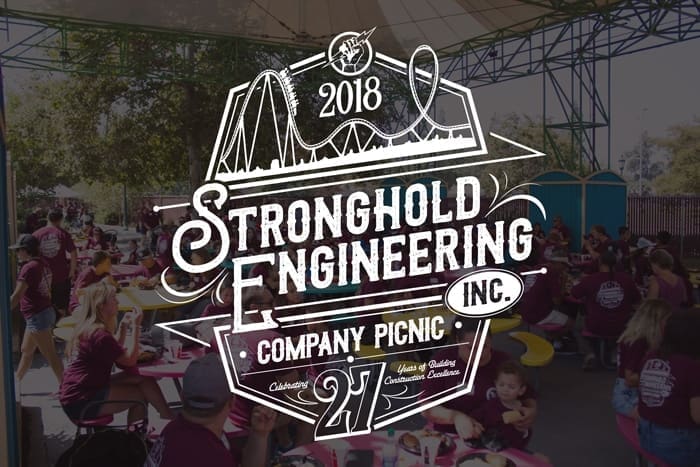 Stronghold Engineering Celebrates 27 Years of Building Construction Excellence.
In October of 1991, Scott and Beverly Bailey started Stronghold Electric from the kitchen table of their home in Moreno Valley, CA. 27 years later, Stronghold Engineering is one of the most successful General Contractors in Southern California. Since day one, Stronghold has recognized the importance that employees have been to the company's success and growth from it's small home built roots, and every year looks forward to giving back to their employees and celebrating how far the company has come. For the celebration of Stronghold Engineering's 27th birthday, the company held their annual picnic at Knott's Berry Farm in Buena Park, CA. Over 450 employees and their families took part in the celebration of success in a day for SEI to give back and say thank you to all those who represent what it means to be a Stronghold Team Member. Through the long days, the time away from family, the stressful times and the ups and downs, Stronghold is thankful for each and every one of their employees who have dedicated themselves to being a part of what it means to be a Stronghold Team Member. Working and living by the company's very important Core Values; Quality, Safety, Teamwork, Integrity, and Commitment. The celebration began with a Knott's style BBQ, loaded with ribs, fried chicken, mac n' cheese and more. Employees and families competed in several fun games including a scavenger hunt and an intense dance off which brought the house down with laughs and cheers. Of course the event wouldn't be complete without a little extra fun for the kids; which included face painters, prizes and giveaways for all the kids in attendance. TV's, Xbox, Playstation, GoPro's and tons more were all up for grabs, with every child going home with a gift. Taking a moment to embrace the dedication of their employees, Stronghold wanted recognized and congratulate their newest 5 Year Club Members. These employees have all show what is means to be part of Team Stronghold and continue to live by the QSTIC Core Values. Stronghold Engineering would like to thank, Kyler Bailey, Luis Flores, Irene Diaz, James Vang, Maria Juaregui, Albert Verdin, Mathew Haley, Javier Echeverria-Ortiz, Ramon Molina, Steven Thomas and Billy Bumby, for all their hard work and dedication to their job and company.
Continuing on the celebration of hard work and success, Stronghold was pleased to announce the graduates of the 2018 UCR Construction Management Certificate program, who dedicated their personal time to an 18 unit course, attending class from spring of 2016 to spring of 2018. Congratulations; Jose Del Villar, Maria Olvera, Robert Stuart, Mike Dugal and Stewart Prothero. The picnic was also filled with a very special and first time moment for the company, with the announcement of the 2018 "Dream On" Stronghold Engineering Scholarship winners. This was the first year the scholarship was created and was only open to children of employees who have been with the company for a minimum of 5 years. Applicants had to be currently enrolled in college or have proof of acceptance and complete a one-page essay addressing their desired field of interest, personal, educational & career goals, and their contribution to community service. Scott & Beverly were pleased to announce and award the scholarships to Tim Jakell Jr. ( Tim Jakell ), and Amber McGahey ( Denny McGahey ), each of whom are extremely successful students with GPA's over 4.0. While the picnic was a time to have fun, an opportunity to give back and hangout with fellow co-workers and family, the fun did not end there. After the picnic was finished, everyone headed over to the Knott's amusement park to enjoy the rest of the day sharing cheers and smiles with their family. It is moments and days like these that separate great companies from others. The generosity of the Baileys goes above and beyond the basic standards of leadership. These events really show everyone the passion and appreciation Scott & Beverly have for their company and employees, and really sets the mark for what it means to make the difference as leaders, owners and mentors. Stronghold Engineering would like to thank everyone for being apart of these 27 years of success and look forward to many more with you and your family.