Training to work as a licensed electrician offers job security and long-term career opportunities, something that many modern day entry-level positions don't provide. Learning how to become an electrician is a great career move for mechanically-minded individuals.
At Stronghold, the entry-level position of laborer helper comes with the support, training, and sponsorship needed to turn into a career after only 4.5 years. Becoming a journeyman electrician is within reach for anyone willing to put in the work and commit to producing high-quality results. Continue reading to learn how to become an electrician at Stronghold.
Laborer Helper
Those interested in learning a trade with Stronghold start out with the company as a laborer helper. In this 6-month position, you'll get a feel for working in the construction industry and an idea of what a career as an electrician might look like.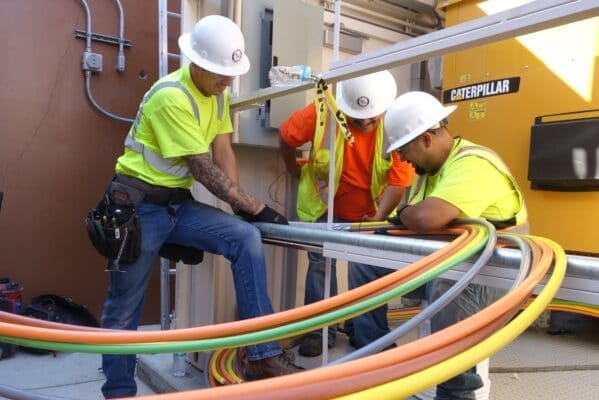 You don't need previous experience, but having some sort of mechanical or construction-related ability is a plus. If you've worked on cars, with wood, on home improvement projects, or anything similar, electrical work might be a natural fit.
During these first 6 months, you'll need to provide certain qualifications:
High school diploma and transcript
Passing grade in Algebra
DMV report
After submitting your full application to Associated Builders and Contractors (ABC), you'll be scheduled for a TABE test. The TABE test consists of general math, reading, and related skills to show that you'll succeed in the classroom environment portion of your apprenticeship.
Next, at ABC, you'll be interviewed by current contractors in the field to make sure you understand and are qualified for the electrical apprenticeship program. You won't be interviewed by a member of the Stronghold team, but you'll have been sponsored by Stronghold through the ABC program to begin your 6 months as a laborer helper.
After passing the interview, you'll immediately start your time as an apprentice with Stronghold.
Apprentice Electrician
Stronghold will hold an orientation to help you get familiar with the ABC program, safety protocols, etc. before assigning you to work. Your required hours start to accumulate on your first day as an apprentice!
To graduate out of the apprenticeship program, you need to do two things:
Complete ABC's required schooling (4.5 years)
Work 4,000 hours under an experienced contractor
Every six months, you'll take two weeks off of work to attend a total of 144 hours of ABC classes in person at no cost to you. In these classes, you'll learn the theory and practical application of the electric field in addition to general construction.
At the end of your time as an apprentice with Stronghold, you'll prepare to take the 100 question, four hour long Journeyman Test. The state of California will certify you as a journeyman if you display comprehensive knowledge of electrical code and other aspects of the field you will have learned during the last 4.5 years.
Journeyman Electrician
After passing the test, you'll receive your journeyman card. When you complete your apprenticeship and earn your card under Stronghold's sponsorship, you'll roll into a full-time position with the company.
You'll need to renew your journeyman card every two years by continuing your education in electrical—completing 32 hours of classes before your card expires.
As an apprentice with Stronghold, you'll be eligible for family health, dental, and vision benefits, all while working towards a secure, long-term career. You'll learn an in-demand trade that you can put to use at Stronghold or any other contractor in the country.
Stronghold looks for honest, hard-working apprentices to join their team. Between 2016–2020, the company brought in 18 labor helpers and apprentices, and 11 have stayed on and graduated into journeyman electrician positions. Stronghold is dedicated to elevating and recognizing excellence in its employees!

Visit Stronghold's Careers page to start your journey to becoming an electrician.