In January 2020, Stronghold was awarded the San Jose City Hall NOC UPS Replacement and was contracted for both the design and build aspects of the project. Work began onsite at San Jose City Hall's network operations center (NOC) in August 2020.
The NOC controls most of Santa Clara County, including hospitals, fire departments, police stations, the Valley Transportation Authority and other services for the county and city excluding the Emergency Communications Center.
Previous to Stronghold's work, San Jose City Hall only had one uninterrupted power supply (UPS) onsite. In emergency situations, if the generators didn't kick in they only had 20 minutes of standby time. With Stronghold's new system, they'll have 60 minutes.
Stronghold replaced the existing system (UPS A) and added another (UPS B) to provide a redundant system. Both systems are now fed off a generator that will kick in if they were to go down. If there is a problem with the primary generator, the newly installed backup generator will kick in to support the UPS systems.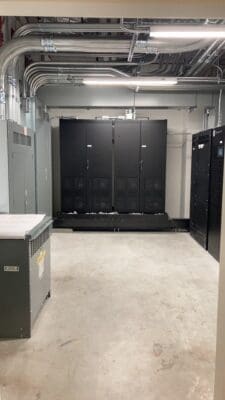 During construction, city hall was still functioning, so Stronghold worked hard to keep everything operational. They built a new room, installed UPS B, and got it approved and online before taking UPS A down and installing its replacement. Due to careful design and planning there were never any power disruptions.
Stronghold installed new server receptacles in order to hook them up to redundant power. This gives city hall's infrastructure two power sources for all of their servers in case one system were to go down. The Stronghold team color coded the systems to easily differentiate between UPS A and UPS B.
They also installed 2 brand new ATS switches, a manual transfer switch, a generator docking station for a temporary generator, new lighting, fire alarms, and more. In every room that housed equipment, Stronghold installed new doors with panic hardware.
The biggest challenge faced during the project was preventing the dry fire suppression system from activating. This sensitive system could have been activated by any fire alarm or smoke detector that was triggered by an accumulation of dust. There were smoke detectors above and below the server rooms in areas where dust from the construction could have gathered. Stronghold went to great lengths to prevent dust expulsion by using special vacuums to minimize airborne dust particles.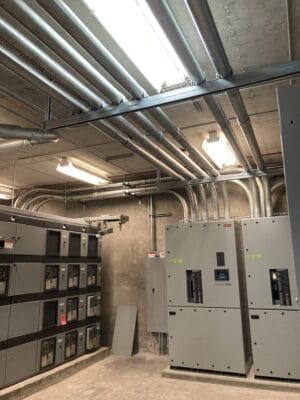 Stronghold's thoughtful, intentional designing and high-quality work earned a letter of appreciation from the city's electrical inspector. Their careful work continues on site at San Jose's City Hall completing final change order requests.

For more information on Stronghold's other work, visit our Projects page.