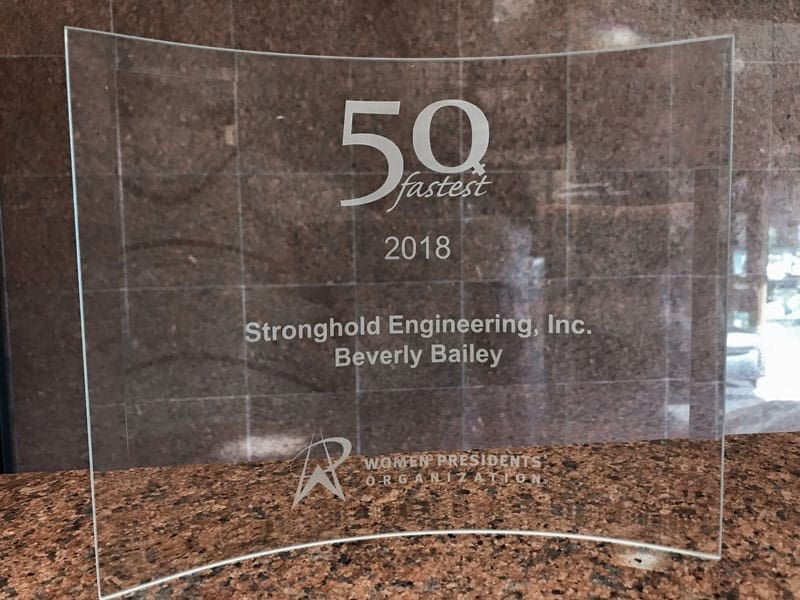 2018 WINNERS OF 50 FASTEST GROWING WOMEN-OWNED/LED COMPANIES ANNOUNCED BY WOMEN PRESIDENTS' ORGANIZATION
Beverly Bailey / Stronghold Engineering, Inc., Recognized at 11TH Annual Awards Ceremony Held in Los Angeles.
Riverside, CA – Thursday, May 3, 2018
– The Women Presidents' Organization (WPO) has announced the 11
th
annual ranking of the 50 Fastest-Growing Women-Owned/Led Companies during the WPO Annual Conference held this year in Los Angeles. The companies featured on this year's 50 Fastest list include a variety of industries — such as technology, finance, retail and entrepreneurial ventures. With aggregate revenues of $8.3 billion, this number is up $1 billion from last year's ranking. Beverly Bailey, President/CEO, Stronghold Engineering, Inc., based in Riverside, CA, has been ranked #41 among this year's WPO 50 Fastest-Growing list. Stronghold Engineering, Inc. (Stronghold) is an award-winning design-build and bid-build general contractor based in Riverside, California. Throughout its celebrated 26-year history, Stronghold has designed and constructed high-profile ground-up facilities, performed technically challenging repairs and renovations for historical and non-historical facilities, implemented significant seismic upgrades, and completed large civil, infrastructure, renewable energy, energy efficiency, and electrical projects totaling more than $2.5 billion. Stronghold is a certified minority-owned, woman-owned private corporation. "Since 2007, the WPO launched the listing of the 50 Fastest-Growing Women-Owned/Led Companies to focus much-needed attention on the vital role that women-owned/led companies have in boosting the economy and enhancing overall job growth," notes WPO President and Founder Dr. Marsha Firestone. "We are proud that Beverly Bailey is among the unique women business leaders facing challenges yet rising to accelerate the growth of her business in today's consistently growing economic landscape." All eligible companies were ranked according to a sales growth formula, combining percentage and absolute growth. To qualify for the ranking, businesses are required to be privately-held, woman-owned/led companies and have reached annual revenue of at least $500,000 as of January 1, 2013. Applicants are not required to be WPO members. Additional facts about the 2018 WPO 50 Fastest:
Average age of women-owner/leader is 51; with half of the winners in their 30's and 40's
Aggregate revenue is $8.3 billion, up $1 billion from last year
Average 2017 revenue was $165.3 million
Average number of employees on first day: 13; projected average for 2018: 799
Funding sources at company start:

70% with their own funds
12% with funds from friends and family
4% with a bank loan
8% with a line of credit
4% with a credit card
4% with private investors/angels
The WPO is the premier peer advisory organization connecting women who own multi-million dollar companies. In monthly meetings across six continents, chapters of 20 women presidents from diverse industries invest time and energy in themselves and their businesses to drive their corporations to the next level. Local WPO chapters are coordinated by a professional facilitator and meet monthly to share business expertise and experience in a confidential setting. For more information, contact 212-688-4114 or visit
www.womenpresidentsorg.com
. Follow the WPO on
Twitter @womenpresidents
and
Facebook @TheWPO
.