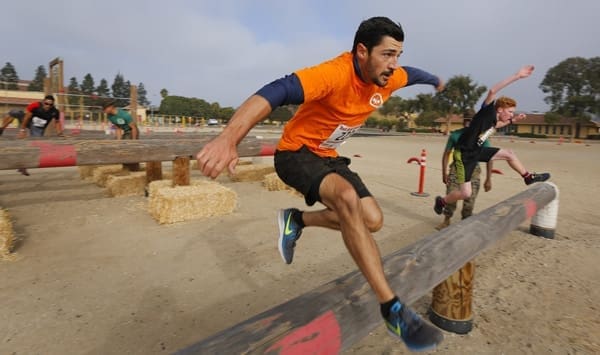 Stronghold Team Member Evan Miller jumping over the log hurdles makes headline cover on the eNewspaper at the San Diego Union Tribune. View full article here > http://enewspaper.sandiegouniontribune.com/infinity/article_popover_share.aspx?guid=8d09d194-5148-4fc7-aeee-0271e26b0835
Team Stronghold Takes On The Famous Marine Corps Recruit Depot BootCamp Challenge in San Diego, CA.
Obstacles, Marines and a 3-mile race through the famous recruit obstacle course. Stronghold Engineering employees stepped-up and took on the challenge to beat and conquer the 5k obstacle run. The race takes place at the Marine Corps Recruit Depot in San Diego, CA with more than 50 obstacles including; log hurdles, tunnels, 6 foot walls, cargo net crawls, push up stations & 60 drill instructors motivating participants through the course. The BootCamp Challenge first started in 2002 as a way to allow the community to take part in a fun and exciting event complete with Marine Corps tradition.
Stronghold Engineering was a partnered sponsor for the event with AGC (Associated General Contractors) and competed together as TEAM AGC. Team Members included; Robert Stuart and Son Robert Stuart Jr., Albert Verdin, Stewart Prothero, Ivan Palacios Ruiz and his significant other Jaerene Robinson, Maria Jauregui and husband Edward, David Wambugu and wife, Kihahu, and son, Efrain.
Not only did the team come to have fun, but they came to compete as well. Evan Miller, Robert Stuart and son Robert Jr. all put up fantastic times and came out with big results. Robert Jr. took home a 2nd place in his age division and a 11th overall in the Men's competition. Looking to represent for Team AGC and Stronghold Engineering, Robert Stuart pushed through the tough 3 mile course to take the 1st place finish in his division and a 5th place overall. Looking to join him at the top, Evan Miller finished the race in 2nd in his division and an amazing 2nd place finish overall. It was great to see Team Stronghold take on the challenge and push through the race. We thank all Team members, family & friends who joined in on the fun.
For more information about the MCRD BootCamp Challenge you can visit their website here > http://bootcampchallenge.com/