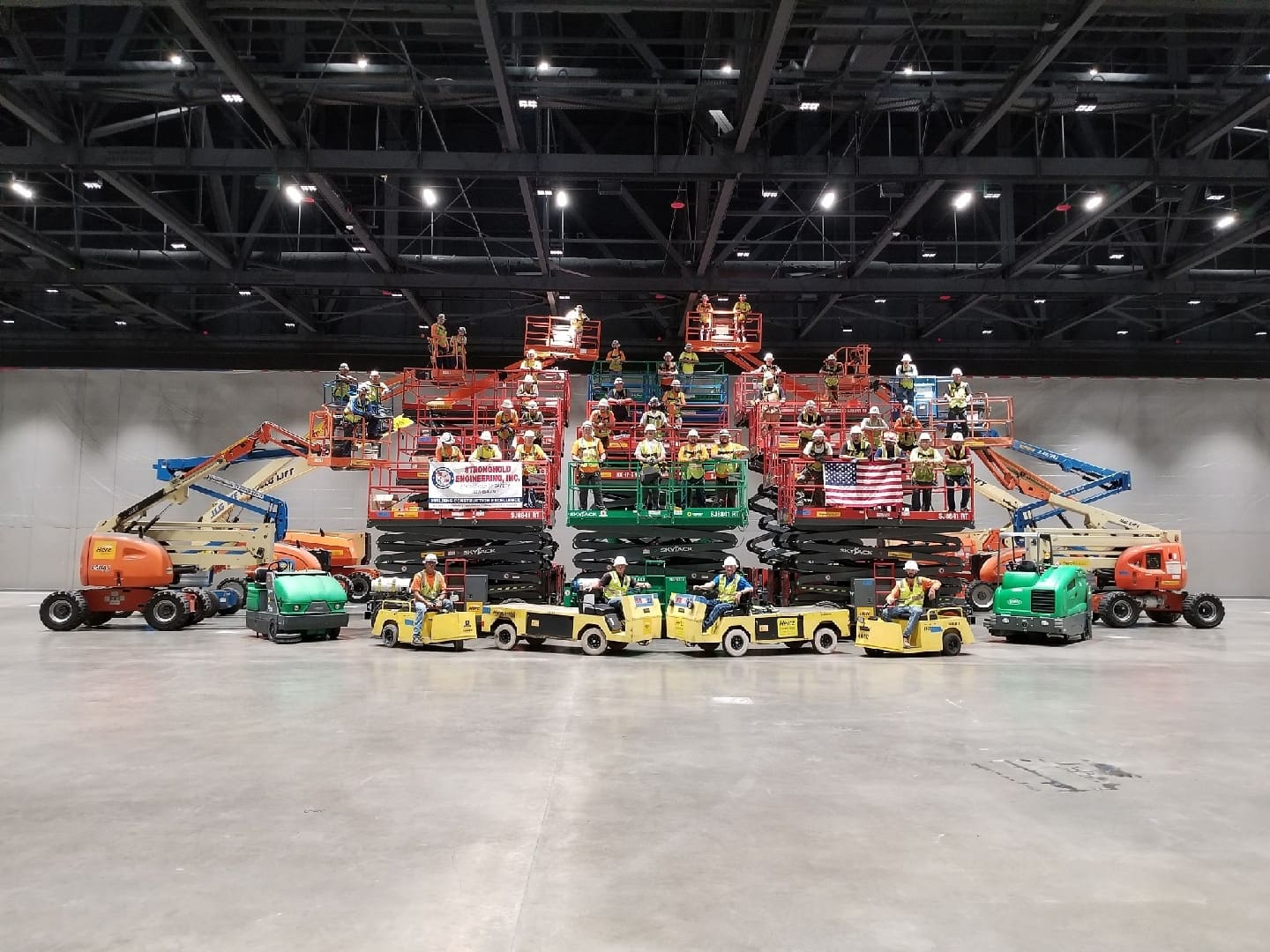 San Jose, California
Cost: $20,000,000
Duration: 8 weeks
Status: Completed
This fast-paced project covering over 143,000 sq ft was completed in a short, eight-week time-frame. The $20 million project began in July and was fast-tracked for a September completion.The current Convention Center opened in 1989 and underwent a significant expansion project in 2013, but due to changing needs of high-tech corporate clients and the desire to attract large-scale events, the San Jose Public Works department and Team San Jose, the city's operator of the center, scoped out a project to meet the requirements of the client while boosting the local economy. Today's convention clients prefer the open industrial look of exposed ceilings rather than acoustic tiles and the open concept makes it easier to locate structural hang points for complex rigging used to support lights and speakers, fixtures and video screens, and other items that clients demand of a venue. In addition to upgrading the structural components to meet current codes and improve performance standards, Stronghold also upgraded the lighting and controls, and fire suppression and alarm systems.
"The client, City of San Jose and the end user, Team San Jose, were great to work with. The Stronghold Team along with all the Subcontractors came together and were very committed to the timeline of this project from the start. We are thankful for the opportunity for a timely delivery on this project."  – David Gollinger, Stronghold Engineering Project Manager.
"You and your team from Stronghold Engineering, Inc. performed outstanding on this $20 million project. This project was very challenging regarding schedule duration. This 143,000 sq.ft. exhibit hall space was required to be completed within short eight-week window of construction duration. The scope required the work to be done at heights from 30' to 60' high working elevation for multiple trades simultaneously. This means that there were up to 70 individual pieces of mobilized aerial booms and platforms maneuvering throughout the space on a daily basis. Your team provided a professional service in coordination, planning, safety management and quality control. Again, a much appreciated effort for your excellent leadership, integrity, dedication and hard work to complete this challenging project."  – Huimin Mu, Project Manager, San Jose City Facilities Architectural Services Division.
"You and your team exceeded every expectation we had. The Ex-Halls look fantastic and I would strongly recommend Stronghold to any company looking for a first class integrity-driven contractor."  – Dave Costain, Team San Jose Chief Operating Officer, & Ewell Sterner, Team San Jose General Manager Facility Operations.
This construction once again pairs Stronghold with the global design firm of CannonDesign. This Design-Build team completed the more than $100 million seismic and safety renovation of the Federal Building in Downtown Los Angeles and are also currently teamed on the renovation across the street at the Edward R. Roybal Federal Building and Courthouse.