Stronghold's culture of safety defines the company and the work that they do—their first priority is making sure employees feel safe in their work environment. The Stronghold team adheres to the same state and federal Occupational Health & Safety Regulations that govern the entire construction industry, but the company sets itself apart in how these standards are implemented.
In addition to these mandated technical standards, Stronghold places a heavy emphasis on training, keeping an ear to the ground onsite, and taking feedback from all team members.
Safety Training
Maintaining safety regulations and standards starts with the hiring process. The team screens and evaluates applicants in order to hire those employees and/or subcontractors who already prove to embody Stronghold's core values and how the safety aspect of those values affects their work. Building a team of people who always have their safety and the safety of their coworkers in mind has earned the company a glowing reputation.
Once applicants are selected and hired for a position, Stronghold will ensure all employees are trained for the task which they will be performing. This could mean receiving informal refresher training from Competent Persons in house or being sent to formal education facilities.
Stronghold goes above and beyond to make sure that their employees receive that training. Additionally, in the same way, a new team member won't be cleared to work on a project until they know how to operate safely, Stronghold will ensure the educational development of existing employees. As employees grow within the company, Stronghold will ensure adequate training for any new tasks or responsibilities bestowed on those newly appointed employees.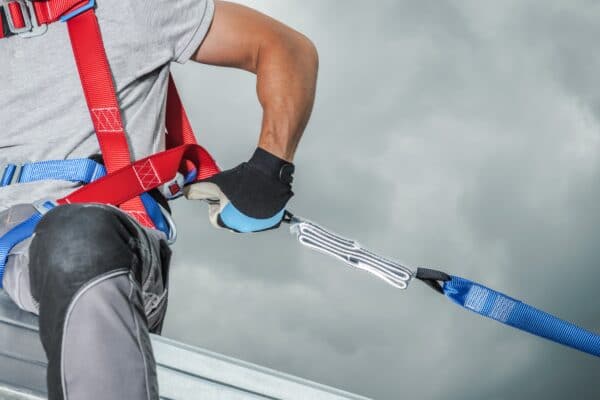 Observing and Updating Best Practices
One of Stronghold's best practices is to "inspect what you expect." It doesn't do any good to train team members if you don't monitor how teachings are being implemented. Members of Stronghold's corporate safety team make visits to job sites and frequently communicate with the team to find ways to positively impact existing safety practices.
The corporate safety team leads the safety committee in making improvements to company regulations and implementation programs. A great example of the safety team's positive influence on day-to-day operations is how they applied a Safety Glasses policy company wide.
Federal and State regulations only require companies to make employees wear eye protection based on the task at hand, or, in other words, only if the task requires it. A few years ago the corporate safety team noticed a trend in increased eye injuries at Stronghold job sites.
Some of these injuries took place while the team was performing tasks that don't necessarily call for eye protection. After noticing the increase in injuries, the corporate safety met with and brought the issue to a Corporate Safety Meeting. The group roundtabled company policy on eye protection. During the meeting, the corporate safety team along with Stronghold's CEO decided to make safety glasses a mandatory part of minimum required Personal Protective Equipment (PPE), meaning that all personnel on a job site must have safety glasses on.
Maintaining a Culture of Safety
The high standards start at the top—the leadership at Stronghold truly believes that upholding safety standards is paramount to collective success. Beverly Bailey, Stronghold's CEO and founder, practices what she preaches by rewarding excellence in safety and taking proactive steps to remove hazards from Stronghold's team.
Each quarter, nominations for Safety Employee of the Quarter are reviewed, and two team members are chosen. Recognition and bonuses are given to the winners, and gift cards are given to whoever nominates the winners.
One of June 2021's candidates for Safety Employee of the Quarter was nominated thanks to his work on the Union Pacific Railroad project. Operator II, Civil Operations Division, was designated to receive communications from a Union Pacific Railroad (UPRR) flagman about incoming trains in an effort to prevent delays to the normal train schedule as a result of Stronghold's work on the tracks.
Operator II was monitoring the UPRR road channel and heard a train calling the UPRR flagman for clearance with no response. He took initiative and warned the team of an oncoming train, giving everyone enough time to safely stop operations and distance themselves from the tracks. Operator II went to check on the UPRR flagman and found him disoriented and confused.
Operator II immediately called their Project Manager for emergency assistance and as a result the UP flagger made a full recovery. Operator II's intuition and safety priorities ensured that even with a disruption in typical protocol, everyone stayed safe and the project continued as scheduled.
Safety doesn't just matter on a job site—everywhere the Stronghold team operates must follow established policies, and the corporate safety team is continually building on current best practices to make the company an even safer place to work.
To learn more about what makes Stronghold's commitment to safety unique, visit our About Us page.