For Stronghold, a job isn't just a job. The work that the team does, from bidding a project to tightening the last screw onsite, forms a narrative. Beyond the designing and building there is a deeper purpose for the projects they take on than just meeting technical requirements.
When a potential job enters Stronghold's radar they immediately view it as an award-winning project, no matter how big or small. This mindset has supported Stronghold in winning 72 awards for quality work in the company's 30-year history.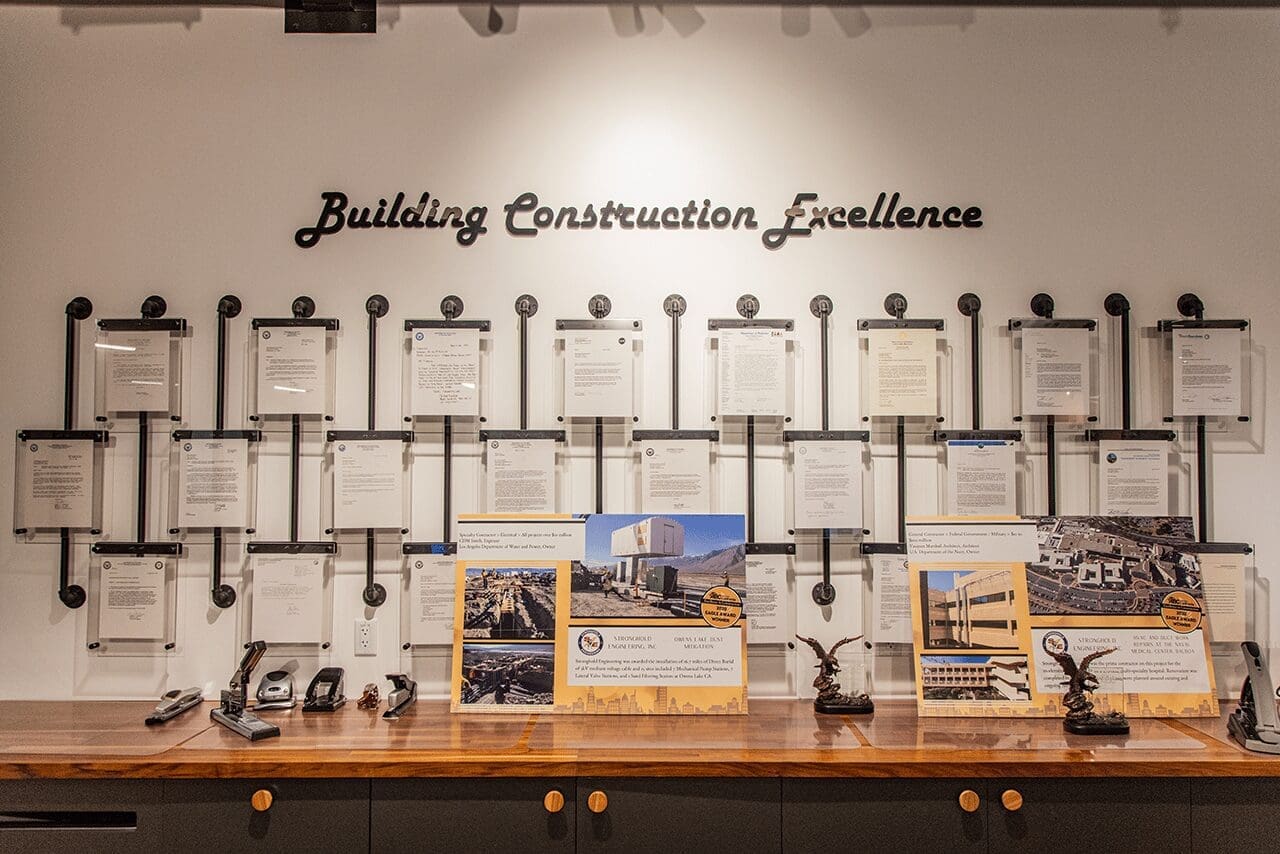 Balboa Naval Medical Center
One of the greatest examples of Stronghold's core value of quality comes from early in the company's history. Stronghold renovated two hospitals at the Balboa Naval Medical Center in 2004. The team took the lead on both the design and build aspects of the job and went above and beyond the requirements of their contract.
One of the hospitals included a pediatric ICU unit. Stronghold's design team wanted to commission a large mural that wasn't a part of their original plans and hadn't been budgeted for. Thanks to precise management and cost savings on other parts of the job, the ownership gave them the green light to fly an artist in and add the mural.
It covered a 14-foot high, 30-foot wide wall in the lobby. In addition to the mural, Stronghold added custom-made play areas and workstations to fill the waiting area. The team worked outside of their scope to deliver value-add items and went on to win their first national design award for the Pediatrics ICU Remodel at the Balboa Naval Medical Center (ABC Award of Distinction-Excellence in Construction 2004-Healthcare Under $5M).
Prioritizing Quality from the Beginning
Stronghold has a design team made up of seasoned engineers with a history of producing award-winning work, and they seek out subcontractors with reputations for similar high-quality performances. When a proposal from a subcontractor comes in, the team vets them carefully to ensure that their materials and methods meet Stronghold's standards and project-specific specifications.
On any given project, Stronghold prioritizes quality and safety above all else, and their end goal is to exceed expectations. All projects have a trained, full-time quality control manager whose only responsibility is to make sure certain standards are met.
Second-tier testing labs and third-party inspections are utilized when expertise for niche aspects of a project is needed, and materials like steel undergo inspection during the manufacturing process before they are even shipped to a job site.
Planning and communication are key to Stronghold's success. The team assigned to a project meets constantly from pre-construction to end of construction to ensure smooth handoffs from estimating to project management, and so on. As new members are added to the team, they learn from the examples of their peers and superiors how to deliver exceptional products.
After 30 years of successful projects, Stronghold has maintained high standards of quality thanks to hands-on ownership and executive management. Their thorough involvement in visiting job sites, meeting with team members, and monitoring job progress sets a precedent for the rest of the team.
Award-Winning Projects
Other award-winning projects include:
HVAC and Ductwork Repairs at the Naval Medical Center (2020 ABC Excellence In Construction)
Owens Lake Dust Mitigation (2020 ABC Excellence In Construction)
Monterey Conference Center (2019 AEI Professional Project Award of Merit)
Substation Replacement at the U.S. Naval Academy (ENR Best Projects 2017)
Transformers at Naval Support Activity Monterey (2017 ABC Excellence in Construction Merit Award)
La Verne Maintenance Shops Upgrade Stage 4 (2015 ABC Excellence in Construction)
D/B Rooftop PV Installation Grove & Harvest Churches (2015 ABC Excellence in Construction)
Photovoltaic System at Installation Restoration Site 7 at MCB Camp Pendleton (2014 SAME Project of Excellence Award)
Mead Valley Library (2013 ABC San Diego Chapter Excellence In Construction)
Hotel Sanford Renovation (2012 ABC Excellence in Construction)
Miramar Golf Course Clubhouse (2009 ABC Excellence In Construction Award, 2010 DBIA National Design Build Excellence Award)
​​Switchgear Upgrades for the USPS Midway Processing District Facility (2007 ABC Excellence in Construction)
Oceanside Harbor Submerged Jetty Removal (2001 Partners in Excellence Outstanding Performance Award)
For more information on Stronghold's past projects, visit Stronghold's Project page.