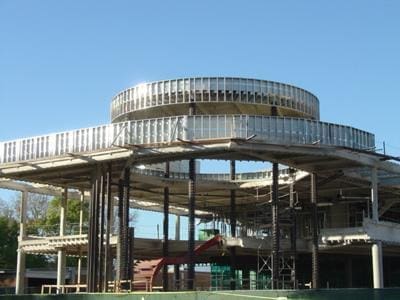 Riverside, CA
Cost: $3.6 Million
Status: Completed
Stronghold has provided quality construction electrical services to the University of California Riverside since 1998, most recently, Stronghold worked on three large electrical projects for the University of California Riverside (UCR). At UCR's Geology & Physics Renovation Project, the project was a $3.6M electrical renovation project that called for replacing an existing high voltage SF6 switch and changing out the main switchgear. Both Geology and Physics were completely retrofitted with Iso Duct type wiremold in the labs, new conduit, light fixtures, circuitry, and sub-panels throughout both buildings.
The project included providing temporary power; progressive cleanup; fire alarm devices; switchgear; lighting; generator and ATS; feeder cable; wiring devices; conduit / fittings / branch material; site underground installation; generator and ATS installation. In the physics building there was demolition; wall rough-in; ceiling rough-in; electric gear build-out; branch wiring; fixtures and trim; telephone / data; fire alarm system and in the Geology basement: switchgear; feeder conduit; other areas same as Physics.
The UCR Geology & Physics Renovation Project had 62 workers onsite: Two Electrical Foreman (Curtis Barkle & Rocky Hawkins), 30 Journeyman Electricians and 17 Apprentice Electricians (provided by Associated Builders and Contractors). This project was completed on time, within budget and with zero lost time accidents.
UCR's East Campus Project, was a $1M Electrical project that consisted of re-routing the UCR Central Plan 12.5kV circuitry around the outside of the building and utilized existing tunnels. Stronghold installed 4' galvanized rigid steel conduit for the multiple circuits that needed to be re-routed. This entailed cutting, threading, and heavy lifting of these materials into place. Stronghold crews devised a special method for getting the heavy 4″ conduit down the tunnels and for mounting into place, which included a roller system and pulley's. This project had multiple circuit cut-overs, which had to be closely scheduled with the University's slow times to ensure minimal interruption. This project was completed ahead of schedule and with no adverse affects to the University or students.
Stronghold also served as prime electrical subcontractor for UCR's Commons Expansion Project. This was a $3.5M project that called for installation of all electrical power and fire alarm systems for the expansion of the three-story, 118,000-sq. ft. student commons. The scope of work included; access doors, automatic transfer switches, cable trays, wires and copper cabling, elevator connections, final commissioning tests of fire alarm and power systems, firestopping, in-wall camera mounting boxes, lighting fixtures, control panel and dimming system, main electrical service and branch power panels, simplex fire alarm system, transformers, transfer switches and underground electrical site distributions and wiring devices.
For the UCR Common Expansion Project, Stronghold had 15 workers onsite: one Electrical Foreman (Curtis Barkle), Eight Journeymen Electricians, and six Apprentice Electricians provided by Associated Builders and Contractors. This project has over 35,000 man hours and was completed on time and within budget with zero lost time incidents.