The initial shock of coronavirus had many of us wondering if our jobs, livelihoods, and access to essential services were secure. In short, we were worried for the future of our careers, families, and communities.
For a while, it was unsure what the short and long-term effects of the pandemic would be on everyday life. However, we began to adapt little by little to new conditions and concerns brought about by COVID-19. As a community we displayed impressive resilience and optimism despite what could've been catastrophic events for our society and economy.
Returning to Work
First to return to the workforce were employees deemed "essential," a term defined by the U.S. Department of Homeland Security as those who conduct a range of operations and services that are typically essential to continue critical infrastructure operations.
Included in this group were construction workers, who provide necessary services for the nation's infrastructure and public safety—energy and communications systems, means of travel, healthcare facilities, and much more.
This group faces a unique set of conditions; many employees don't have the option of working from home, equipment and workspaces are typically shared, and a strict set of health and safety guidelines are already enforced.
As members of the construction industry, Stronghold Engineering fell under this umbrella and resumed work for our valued clients.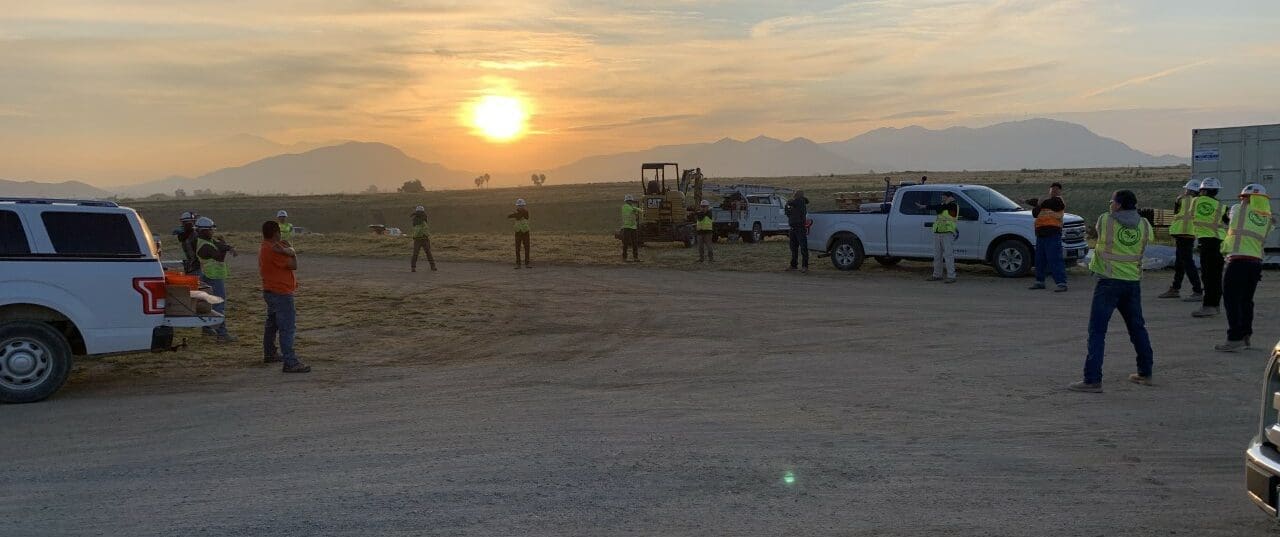 In the best interest of the Stronghold family and the people we serve, we knew we had to take precautionary measures to ensure a collective safety. Based on general and construction-specific recommendations from the Center for Disease Control and Prevention (CDC), Stronghold implemented policies to help its staff return back to work without worrying about COVID-19.
Safety Measures
The CDC suggested hygiene and distancing practices for all employees, and we at Stronghold created and enforced a construction-specific approach to the situation.
Our recommendations include the following:
Practice physical distancing by keeping a distance of at least six feet between yourself and other workers. This should prevent you from coming into contact with others who may be infected.
Wear a face mask or covering of some sort, especially if it is difficult to maintain a six-foot distance from others.
Maintain good hygiene. This includes washing hands thoroughly with soap and water for at least twenty seconds after sneezing or coughing, blowing your nose, before putting on gloves and after taking them off, after touching your face mask, and before and after touching shared tools and surfaces. If soap and water aren't readily available, use hand sanitizer that is at least 60% alcohol.
Frequently disinfect all shared items or surfaces, such as tools, machines, shared vehicles, door handles, ladders, etc. Disinfection should take place not only at the beginning and ends of shifts, but also after employees use shared equipment.
Employees who have indicated that they are unwell should be allowed, and encouraged, to stay home in isolation until their doctor approves regular contact.
Stronghold for Creating a Healthy Work Environment
In addition to observing the CDC's guidelines mentioned above, Stronghold has taken the following steps to establish a safe setting designed to hinder the spread of germs between employees:
During weekly meetings and whenever groups of people congregate, social distancing practices are implemented and staff maintain six feet of distance between one another.
Stronghold-branded antibacterial wipes are available for disinfecting shared spaces and tools.
At all locations, staff undergo daily temperature checks to confirm they aren't exhibiting this symptom of the coronavirus.
Employees are encouraged to work from home if possible and, if not, are asked to stay home if they have any symptoms of the coronavirus.
At Stronghold's main location in Perris, CA, the number of personnel working on each floor is limited to discourage contact between employees.
At Stronghold, we are deeply committed to the health of our employees, and our duty to provide the community with structures and resources designed to serve. We are dedicated to continue balancing safety and efficiency regardless of whatever challenges we face next.
Since the pandemic began, Stronghold has continued work on the following projects:
Ironwood Prison
Wellfield Emergency Generators
VA Dietetics Building
Other renewable energy, electrical, and railroad projects.
For more information on what Stronghold has accomplished during the pandemic, visit our Projects page.