Recognized for its phenomenal safety program and culture, Stronghold Engineering has reached STEP Platinum level according to the Associated Builders and Contractors' (ABC) guidelines. This certification is awarded to organizations that demonstrate extraordinary jobsite safety, maintain impressive safety performance, and implement meticulous safety programs.
Key aspects considered when awarding level upgrades in the ABC STEP Safety Management System include a company's processes and policies on 25 components outlined by ABC. Reducing jobsite incidents is one of STEP's main goals, one that is accomplished by encouraging companies to implement or enhance safety programs. To learn more about the STEP program, visit abcstep.org.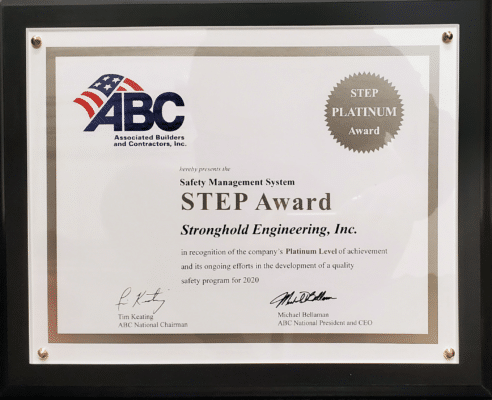 "An industry-wide commitment to total human health is essential to ensure both the physical and mental health and safety of our workforce," said Greg Sizemore, ABC vice president of health, safety, environment and workforce development. "As a STEP participant, Stronghold Engineering's leadership has demonstrated a commitment to create the conditions for all to do their work without incident."
"By implementing proactive safety measures, such as emergency preparedness plans and a sound personal protective equipment policy, Stronghold Engineering is committed to consistently raising the bar when it comes to safety performance."
According to ABC's annual Safety Performance Report, applying STEP processes dramatically improves safety performance among participants regardless of company size or type of work, and can reduce recordable incidents up to 88%, making the best performing companies 827% safer than the U.S. Bureau of Labor Statistics industry average. Ratings range from Diamond, the highest, to Platinum, Gold, Silver, Bronze and Participant.
Stronghold received this distinction in 2013, 2014, 2015, 2016, 2017, and 2020. In 2018 they received Diamond level, and in 2019 they received Gold.
Stronghold's Approach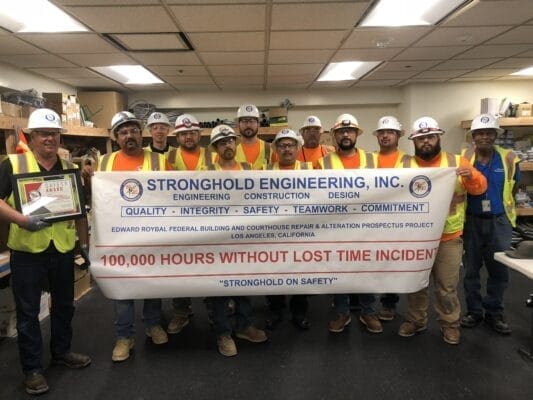 Stronghold Engineering has crafted an extensive health and safety program that prioritizes the well-being of their employees over every other aspect of the company's activities, including expediency and cost.
Account Investigation and Review Process: Any work-related accidents, incidents, near misses, injuries and illnesses must be reported. The event is escalated to the appropriate supervisors, who perform documented investigations when the situation requires. Unsafe activities or conditions are corrected, and the situations are discussed at the jobsite and monthly safety meetings.
Employee Training: Project managers and project superintendents are required to attend 40+ hours in safety courses covering a range of topics that include fall prevention, heat illness prevention, and hazard communication.
Manager and Supervisory Training: Managers and superintendents who work onsite receive similar training, with additional topics covered such as handling contractor and subcontractor liability, initiating emergency response procedures, and implementing Stronghold health and safety procedures
Project Safety Orientation: Before onsite working begins, all Stronghold employees, subcontractors, and tiered subcontractors attend a mandatory, comprehensive training about safety program guidelines and expectations.
Safety Meetings: Onsite, the project superintendent holds daily safety meetings with all site employees before each shift begins. These meetings cover the day's activities, hazards associated with those activities, and recommended controls for each hazard. Weekly Tailgate/Toolbox Safety Meetings are also held.
This advancement to STEP platinum in the program celebrates Stronghold's commitment to the well-being of their employees. Now that they have reached STEP Platinum level, Stronghold Engineering is qualified to apply for ABC's National Safety Excellence Award and Accredited Quality Contractor credential.