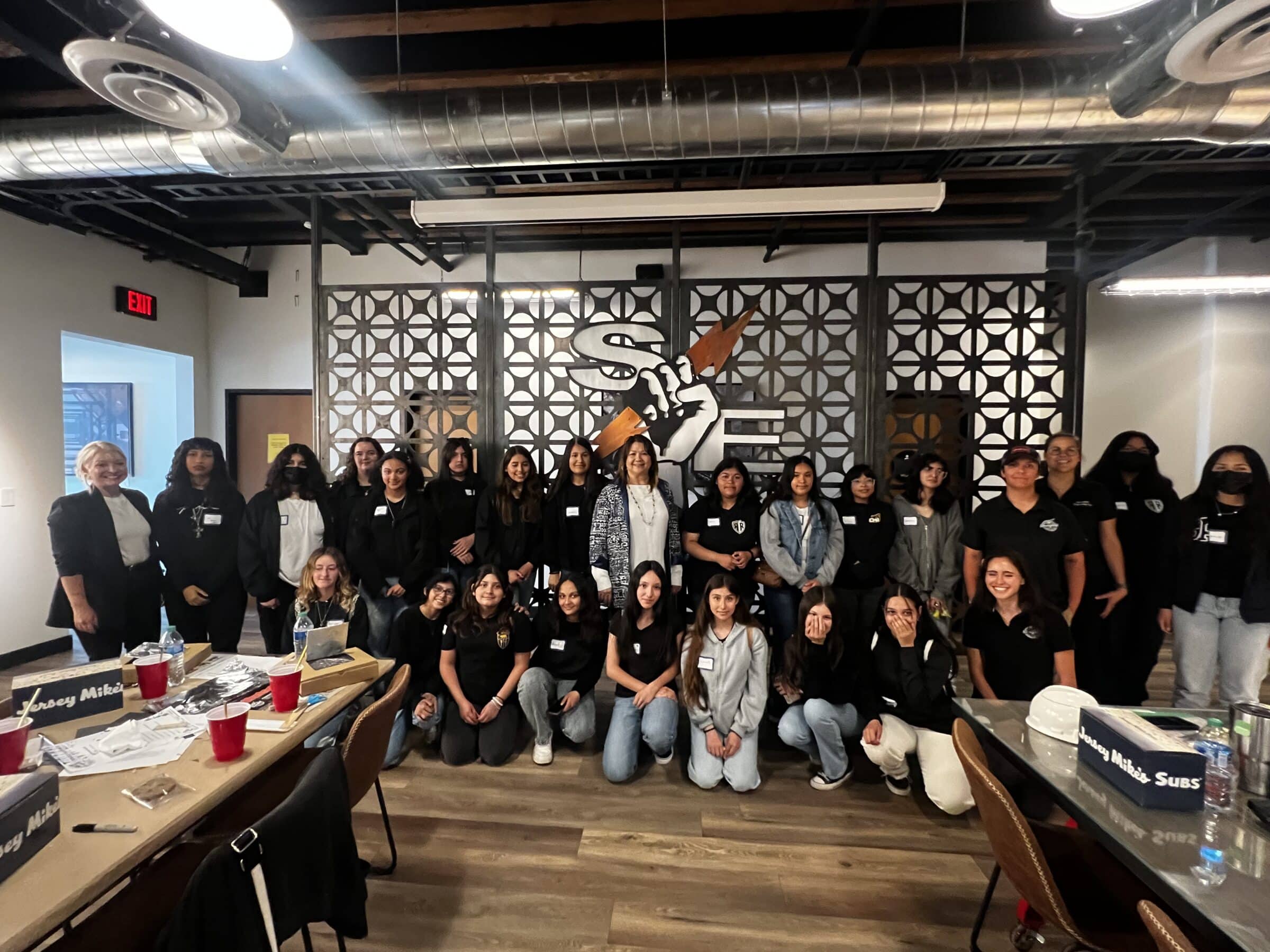 The Girl Scouts of San Gorgonio visit Stronghold Engineering for a day to learn about alternative career paths in STEM.
Historically, the path for ambitious young girls with a desire to change the world has been one filled with closed doors and stifled opportunity—for too long, bright young minds have been pushed away from the STEM field simply because of traditional, societal expectations. On May 9, 2023, Stronghold Engineering, an industry-leading firm that specializes in innovative infrastructure projects, invited the Girl Scouts of San Gorgonio to tour their facility, to learn about the exciting possibilities of STEM—and to be inspired. 
The troop was invited to Classroom to Career Day, where the goal was simple: to teach the next generation of female engineers by promoting opportunities for girls to explore STEM-related fields from an early age, an experience they may have never been given otherwise. For many of these girls, this was their first time stepping into the world of engineering.
Classroom to Career: Inspiring the Next Generation of Women
As the Girl Scouts filed in through Stronghold's state-of-the-art facility, they were met by Beverly Bailey, the company's co-founder and CEO. Bailey began the company 31 years ago alongside her husband and has since been dedicated to giving opportunities to young people who are looking for career paths in the field.
As a woman of color, Bailey represents a pioneering example of what can be achieved when women fight to lead and create in STEM. She shared her story with the girls, emphasizing the importance of taking risks and never settling for less than what they're capable of. Even just a few decades ago, obtaining access to a STEM career was incredibly difficult for many women, including Bailey. Today, with more women making strides in the field than ever before, there are hopes to open the doors even wider for the new generation.
In the spirit of this goal, Bailey guided the scouts through each department, introducing them to five female team members at Stronghold with alternative career paths such as their Electrical Apprenticeship Program—this program allows students to gain hands-on experience and quality education through Associated Builders and Contractors, all with great pay and benefits. With programs like these, Bailey hopes to open branches of opportunity for young girls with an interest in STEM. Each of the presenters explained their various roles at Stronghold and shared their own experiences of perseverance and success in a male dominated industry.
One woman working as an Electrical Apprentice showed pictures of herself hard at work out on job sites, all while explaining Stronghold's apprenticeship pathway and what it's helped her achieve. Another woman spoke about how she worked hard for her engineering degree in college to eventually become a Project Engineer. Considering that the engineering field is still male-dominated, these women provided powerful examples of the different paths women can take to transform the STEM field.
The troop also heard from an Executive Assistant, HR Manager, and the Director of Business Operations and Special Projects—each story of perseverance and success was unique, but all spoke to the same message: that women can succeed in this field, and that the pioneers of yesterday light the way for future generations of women in STEM. The Girl Scouts took everything in, excited at the prospect of creating their own success stories.
Teaching Innovation Through Building a Solar Oven
After the troop heard first-hand accounts of what women are achieving in the engineering field, they were given the opportunity to do some engineering of their own. Stronghold Engineering provided the materials for the girls to make solar-powered cooking boxes—Barbara Kerr was one of the primary founders of the current solar cooking movement and was a female engineer who utilized renewable energy sources to make a crucial food-preparation device that requires very few resources. With just a cardboard pizza box, some aluminum foil, and plastic wrap, the girl scouts made their very own sustainable ovens.
The troop learned about Kerr's story and how her work is a great example of female engineering innovation in action. They then crafted the solar cooking boxes together while Stronghold Engineering staff members explained how they can be used in everyday life for preparing food with solar energy. The room buzzed with excitement as the troop watched their creations come to life, with each box representing a small but significant step toward inspiring the next generation of female engineers.
After lunch, the Girl Scouts were awarded with a very special addition to include on their sashes: a STEM career exploration patch to proudly represent their introduction to the world of STEM and the engineering field. This was no ordinary scouting day—these Girl Scouts of San Gorgonio took their first steps towards contributing to a world where young girls have every opportunity to become engineers, innovators, and leaders.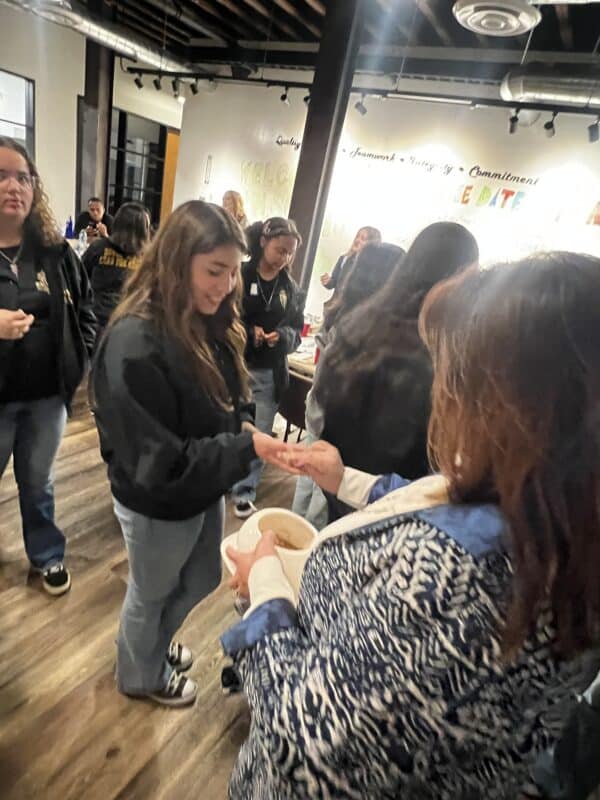 Stronghold Engineering Provides Continual Support
Stronghold Engineering's investment in the Girl Scouts of San Gorgonio doesn't stop with their visit to the facility. The company's tradesmen have also been doing work in building the Girl Scouts' horse tack room sheds for their Azalea Camp up near Idyllwild —a project that will provide the troop with an innovative space for learning and recreation.
According to Alyssa Digangi, Director of Business Operations and Special Projects, "When the Girl Scouts of San Gorgonio came to us at Stronghold to explain their need for two tack room sheds for their horse tack up at their Azalea Camp, our Charity Committee rose to the occasion! The team gathered the materials needed and planned multiple sessions at our warehouse in Perris to build sections of the sheds before transporting for assembly at Azalea Camp. It was a complete team effort bringing our experienced carpenter and electrical tradesmen together with others in our office that are less experienced to build these sheds for the Girl Scouts. Our team dedicated multiple Saturdays to get this project completed."
All of this support reflects a larger commitment made by Stronghold Engineering and other organizations like it to invest in the future of female leaders. The company hopes to open opportunities for the next generation of women in STEM and continues to work hard on making this dream a reality. Stronghold Engineering will continue to support the community and provide alternative routes to achieving a fulfilling career, helping empower young girls and bridge the gender gap in engineering.
The future is theirs—it's just waiting for them to build it.