Stronghold Engineering today announced work on the UCR Campus Solar Roof Initiative in Riverside, California has earned a national Excellence in Construction® Eagle Award, presented during ABC Convention 2023 in Orlando, Florida, on March 16. The EIC awards, presented to 82 of the nation's top construction projects in 2022, are the construction industry's leading national competition that honors general and specialty contractors for world-class, safe and innovative construction projects from across the nation.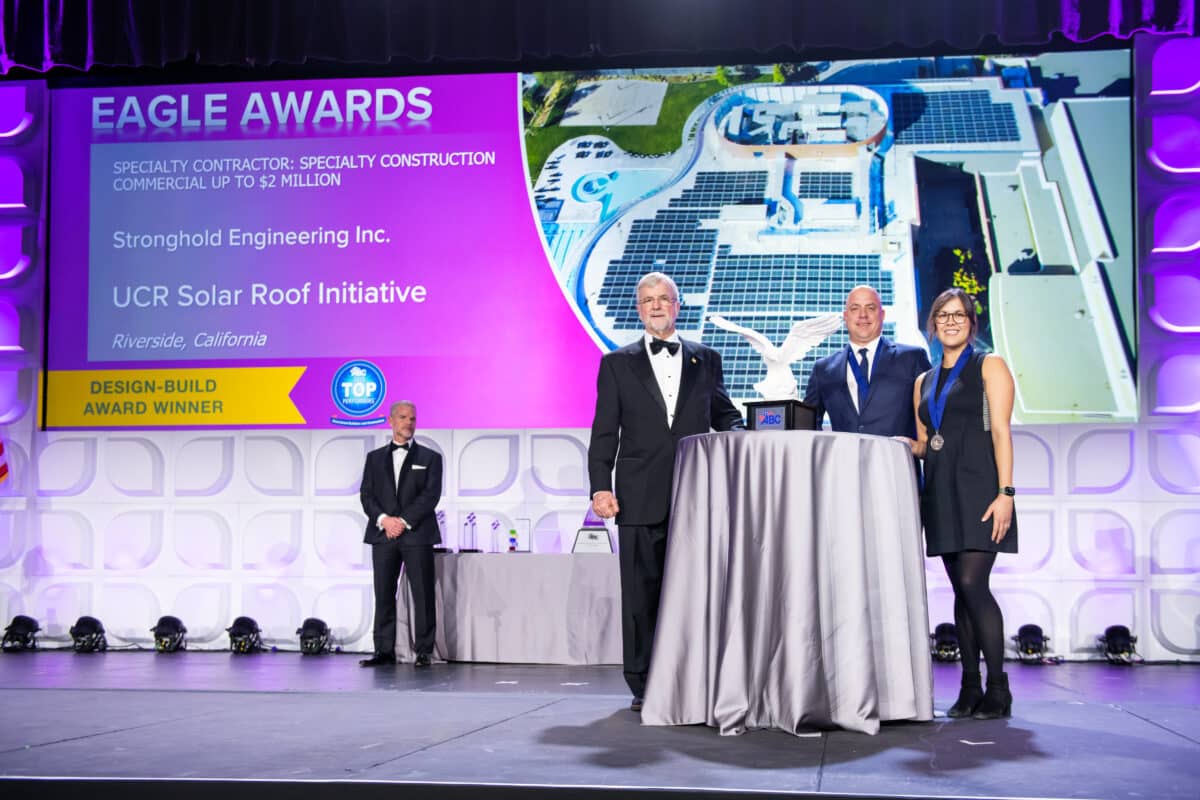 "We are honored and blessed to received our 5th National Eagle Award from ABC. Our team stepped up and worked hard to build a quality project for the University of California, Riverside. We appreciate the recognition and strive to continue Building Construction Excellence." – Beverly Bailey, CEO and President of Stronghold Engineering, Inc.
Stronghold Engineering Inc. was hired by the University of California, Riverside to design, construct and install a PV system on two large, targeted campus buildings: the Student Recreation Center, with a total rooftop area of 47,400 sq. ft., and the Student Services Building, with a gross rooftop area of approximately 17,850 sq. ft.  The result is a 474kW system comprised of over 1,000 435W solar panels that feeds directly into the campus electrical system.  To maximize power efficiency and roof space, the team selected panels with a dual-tilt, east-west facing system. The low tilt angle minimizes inter-row shading and allows rows of modules to be mounted closer together, maximizing available array capacity.
The team worked collaboratively with Senior Project Manager, John Franklin of University of California Riverside who stated "I have had the pleasure of working directly with Mr. Gates and his team on the recent UCR Campus Solar Roof Initiative project. The scope of work for this design-build project involved the design, construction, and installation of a substantial photovoltaic (PV) system on two separate campus buildings. The University felt a Design-Build Project Delivery method would be the best format to allow for creative and innovative results on this project."
This project was also recognized by ABC as a Design-Build Award Winner.
"The Excellence in Construction Awards are the cornerstone competition in our industry, honoring projects like UCR Campus Solar Roof Initiative because the work by the team at Stronghold Engineering, Inc. exemplifies the best of the best in construction," said 2023 National Chair of the ABC Board of Directors Milton Graugnard, executive vice president, Cajun Industries LLC, Baton Rouge, Louisiana. "This world-class construction project shows the diversity of what the merit shop construction industry builds and how we build projects safely, on time and on budget. It is an honor to congratulate Stronghold Engineering, Inc. for showcasing construction excellence."
The EIC Awards honor every member of the construction team, including the contractor, owner, architect and engineer. The winning projects are judged on complexity, attractiveness, unique challenges overcome, completion time, innovation and safety.
A panel of industry experts served as the competition's judges. This year's judges included representatives from At Home, the Design-Build Institute of America, Engineering News-Record, Marriott, the National Institutes of Health, the National Institute of Building Sciences, T-Mobile, the University Research Institute and various construction-related firms nationwide.
A full list of EIC winners is available on ABC's website.