This Thanksgiving season, in the wake of celebrating our 30th anniversary, the Stronghold team has taken a moment to reflect on what we're truly thankful for. Looking back at our company's history has made us realize that it's thanks to our team and countless hours of hard work that we've arrived at the place we are today.
At Stronghold Engineering, our goals have always centered around building construction excellence. Through our united approach to producing stellar work, we've mastered a client-first approach to make sure you're always satisfied with the results.
Let us share a few milestones that we're grateful for and experiences we hope to continue having.
Stronghold's History of Firsts
Taking a look back at our roots makes us grateful for the company we are today. We first started out in 1991 with an idea that quickly took off.
First Years
Our first job was a small electrical job as a subcontractor at Fort Irwin, which was the stepping stone that Stronghold needed to continue forward.
During that year's holiday season, we hired our first employee Nick, who we took to Magic Mountain as a way of celebrating Christmas and a job well done.
A few years later, Stronghold's first job out of California was at Arizona Ajo Detention Basin. This expansion from our home state was the first of many successful out-of-state projects.
First International Project
Another first for Stronghold was when, in 2004, we took on our first international project, which landed in Toronto, Canada. We were the prime contractor for developing a commercial space into the law enforcement hub for the area.
First 8a Job
In 1995, Stronghold was the general contractor assigned to work at the Loma Linda VA Hospital. The contracting officer couldn't find anything wrong with the project, so he put sawdust in a drawer as a joke. Our young team knew how to deliver high quality results!
First Bonded Job
Taking a step past our days of being a small firm, our first bonded job as an electrical subcontractor was a huge milestone for the Stronghold team. The project was called the Seal Beach Ordinance Transfer Facility.
First Award
2004 was a significant year for our business development and widespread recognition. Stronghold received ABC's National Eagle Award for its Pediatric ICU project at the Balboa Naval Medical Center in San Diego, California.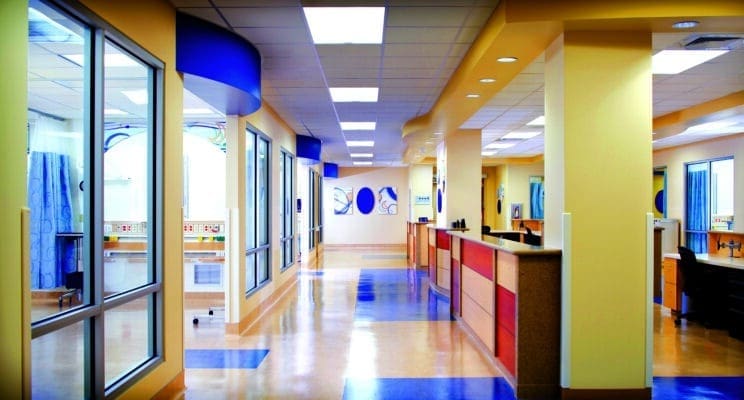 The National Eagle Award was followed by three other awards from various sources for the team's innovative execution of the project.
First Corporate Office
In 1993, our team moved into an official headquarters on Business Way in Riverside. Just four years later, Stronghold outgrew the space and made the first of 3 moves that eventually led us to the first corporate property purchase at Gato Court in Riverside, and then to today's corporate office in Perris.
We will never forget the employees, staff, and clients that helped elevate Stronghold to this point and who continue to contribute their time and passion as the years go on.
Looking Back at 30 Years
Stronghold's mission, vision, and culture were refined through each development, no matter how large or small. When our company purchased seemingly small items like its first copier, fax machine, and line truck, the team was transformed and able to deliver a higher quality of service to our clients.
These stepping stones bring us to the present-day Stronghold, where we are celebrating our 30th year in the business. We've come a long way from our start at a kitchen table in 1991.
One aspect of Stronghold that has been around since the beginning and remains a constant is the excellent staff and workers who give their best day in and day out. Our "10 Year Club" of employees has grown to 44 team members
Stronghold hopes to have many more firsts to be thankful for as we continue to grow each year. We are grateful for you, our community, for remaining with us over these past 30 years and for putting your trust in our company.
Happy Thanksgiving!