Stronghold submitted a proposal for the rights to develop solar on the West Riverside Landfill after the County of Riverside put out a Request for Proposal (RFP) for the land. Stronghold won the RFP, and Scott Bailey, Stronghold's Chief Operations Officer, negotiated with the county to secure a 25-year lease, which was execueted early in 2015, with an option for an additional 25 years. Stronghold finalized designs for the project and a Power Purchase Agreement (PPA) with the Lake Elsinore Unified School District (LEUSD) was established.
This project consists of 3.094 MW of photovoltaic generation interconnected with Southern California Edison using the Renewable Energy Self-Generation Bill Credit Transfer program, otherwise known as the RES-BCT (formally AB 2466). The RES-BCT program allows "Local Government(s)" (defined as city, county, special district, university or charter, school district, political subdivision, local public agency or a Joint Powers Authority) to install up to 5 MW of off site renewable generation within a geographic boundary. All exported renewable generation to SCE's grid is then converted into "generation credits" and used to offset energy costs at designated locations which may be locations where self generation isn't feasible.
Utilizing the RES-BCT program, solar generated from West Riverside Landfill SF1 began offsetting part of the energy costs for the fourteen LEUSD school and administration buildings locations on November 10, 2020. LEUSD is reaping additional energy savings with Stronghold's recently completed onsite photovoltaic shade canopies that were installed at seven LEUSD locations.
The West Riverside Landfill SF1 facility houses 9,520 photovoltaic modules across nearly 15 acres with no underground work allowed to penetrate the landfill's protective cap. This meant that Stronghold had to coordinate heavily with environmental agencies to ensure that the project was allowable and that the landfill cap wouldn't be damaged, exposing the debris that sits underneath the surface.Therefore the conduit was run above ground in galvanized rigid conduit and the modules racking system used concrete-filled ballast pans. This presented a challenge due to the amount of concrete needed and having to deviate from normal processes that would've included breaking ground for the installation of underground conduit.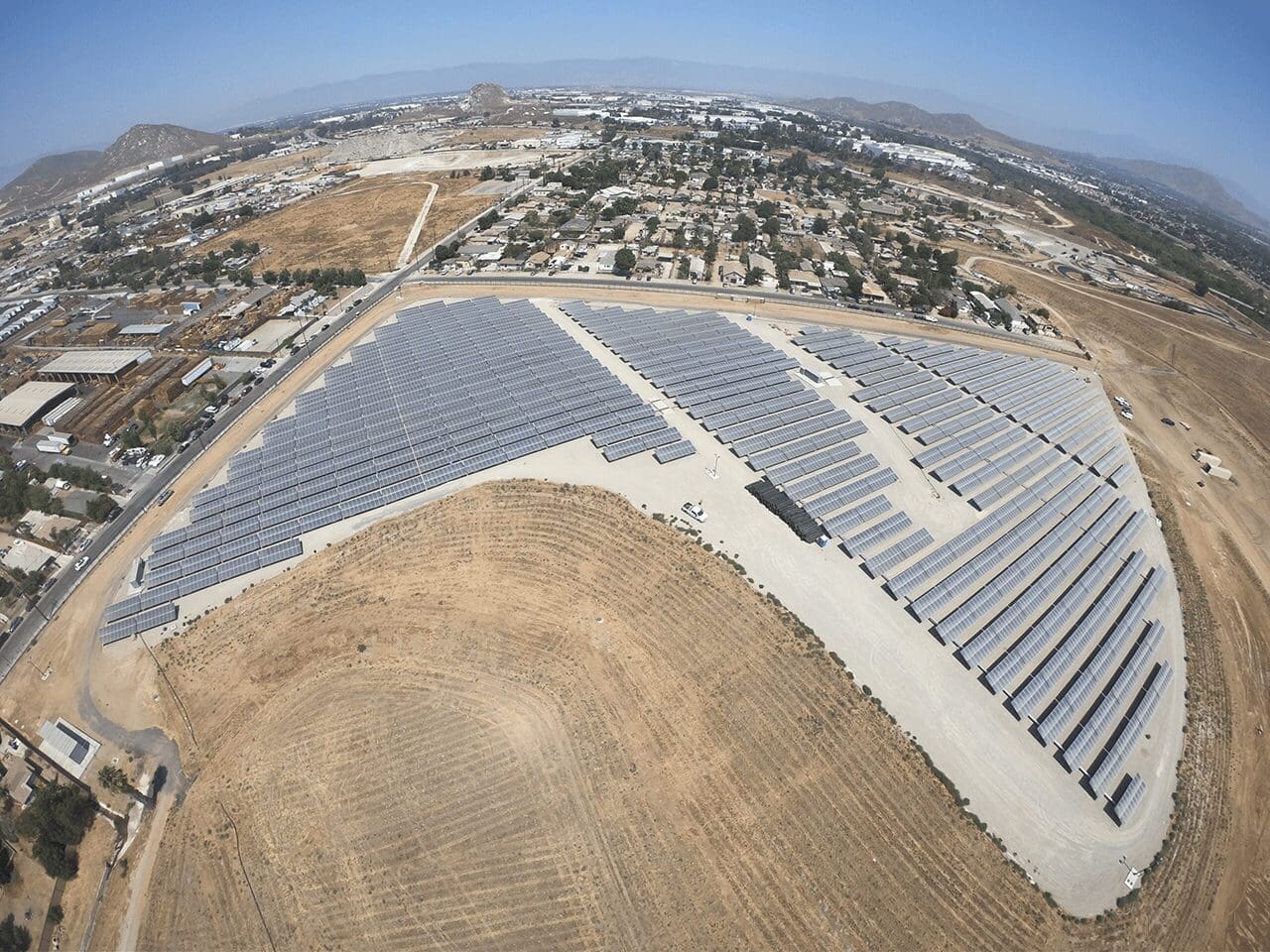 In addition to constructing the solar portion of this project, Stronghold installed proper landfill cover and provided neighborhood beautification around the perimeter of the landfill. New sidewalks, decorative and chain link fencing, lighting, security cameras, and landscaping were all done onsite. Wherever the landfill cover wasn't up to standards, Stronghold was able to do some resurfacing for the County. See below the before and after images of the site beautification.
Work on the West Riverside Landfill will continue in order to provide energy to additional offtakers. Phase 2 includes a 5.25 MW solar grid system, and Phase 3 includes a 1.35 MW solar grid system that will consist primarily of a Battery Energy Storage System (BESS).
Plans for Phase 2 have been submitted to Southern California Edison for interconnection and are currently under review. Stronghold is considering candidates that might receive power from the second and third phases of the project.
Visit Stronghold's Project page to learn about projects similar to the West Riverside Landfill.