On Friday, February 11th, Stronghold Engineering hosted a Super Bowl tailgate office party. Leading up to the event, we announced that a team member would win 2 tickets to the Super Bowl LVI! The excitement flooded the room and Microsoft Teams meeting when the wheel landed on the name of our 12-year tenured employee, Kevin Goetz! Kevin then decided to bring a co-worker with him to the experience, Keith Gates, who has been with us for 18 years! We loved seeing this moment shared between fellow team members. Stronghold provided a $1,000 cash prize to help make their combined experience unforgettable!

Read their testimonials!
OPPORTUNITY OF A LIFETIME FOR KEVIN
"Just wanted to say 'Thank You' for the opportunity of a lifetime! I cannot thank you all enough! I am forever grateful for your generosity! Never thought I would attend a Super Bowl in my lifetime!
First off, I was in total shock when the wheel landed on my name! My first thought was, there must be some mistake or malfunction because I never win these kinds of contests. I was overwhelmed and it took a few seconds for my brain to catch up to reality. When I was in Alyssa's office talking about winning the tickets, I could see Keith at the bottom of the screen and instantly knew the other ticket was for him. I told Alyssa right away Keith was going with me. When I told Keith he gets the other ticket – his reaction was priceless!! Full of emotion, He yells – 'I'm going to the SUPER BOWL!' and a few other choice expletives!
Keith said he would work out the logistics and leave it up to him to get us there and back. He had a great idea to have his daughter and her boyfriend drive us there and pick us up. Better to pay her to drive us than pay someone else to do so. Ashley (Keith's daughter) dropped us off at Costco just across the street from SOFI stadium, it was an easy walk up to the stadium.
We already had a few drinks and were feeling good, I mean really good! As we walked to the stadium we could feel the excitement in the air, everyone was so friendly and engaging. We talked to many Ram fans and quite a few Bengals fans as well. Have to say that the Bengals fans are great, they are so cool and were so into their team -but were respectful of ours.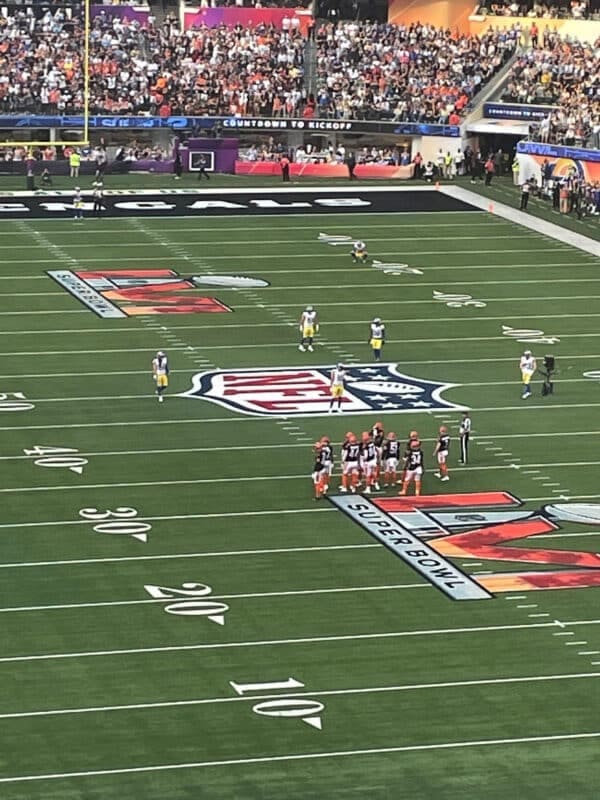 When we made it to the search/screening area -they scanned the tickets and let us in–they never asked us for our vaccination cards and very few people wore masks. The Vibe there was so amazing-so positive! Everyone was on the same wavelength. As we came up to the entrance of the stadium- I was amazed at how big it actually is and how beautiful it is. They designed and built this stadium so well- at no time did I ever feel it was too crowded even though it was at max capacity. When we walked up to where we can see the field below- I was awestruck! I AM actually at the SUPER BOWL!
We got a few more drinks and a bite to eat and took our seats- Did I mention, we had great seats! We were fortunate enough to also have great people sitting around us. The Blanton family (Rams receiver) was sitting in the row in front of us – they asked us to take a few photos of them. Next to me was a father and teenage son who were interesting to talk to as well. Yes, they are big Ram fans! What a great memory for them.
Time passed quickly and before we knew it – It was kick-off time! What a rush to witness the Super Bowl opening kickoff! So much energy it's incredible! The Vibe was intense the whole game!
Time passed quickly and before we knew it – It was kick-off time! What a rush to witness the Super Bowl opening kickoff! So much energy it's incredible! The Vibe was intense the whole game!
The Halftime show blew me away- I am not a big hip-hop fan, but I was blown away, I really enjoyed it!
I will never forget the roar of the crowd when the Rams victory was secured with Donaldson doing what he does best. Couldn't have been happier for the Rams! After the game, walking out of the stadium with all of us Ram fans on a high, yelling, screaming, etc…. | was amazed at how well the Bengals fans took the loss, their humbleness, impressive!
Ashley and boyfriend picked us up and we headed to Chilis to get a bite and a couple of drinks and just decompress for a while. Have to give Keith a shout-out and a 'Thank You' for taking care of the logistics and being a great guy to hang out and party with!
What a day! A great day I will remember for the rest of my life! Thank you again for your generosity and thoughtfulness! Go Team Stronghold!"
-Kevin Goetz
DEFINITELY A BUCKET LIST FOR KEITH
"First of all. Thank you Stronghold and the Baileys for their generosity. I could not believe Kevin picked me. Kevin is accurate in his story. This was definitely a bucket list for me.
We were both in awe of the venue and being in a place where 100's of million people were watching. Not sure what was shown on TV but the game opened with The Rock announcing the teams. He got things hyped up big time. I am a huge Raider fan and been to tons of big games and events but nothing compares to being at the Superbowl.
When I first got there I wasn't 100% sure who I was rooting for. JK. I had to root for the team playing in my birthplace. Los Angeles. The fans were amazing. There were no fights or other nonsense going on. It was all business in the stands. As Kevin stated the fans for both teams were amazing. Everyone was happy and excited to be there.
The ups and downs throughout the game was crazy. The halftime show was awesome. These were the guys that I grew up listening to. No one left their seats during the show as a matter of fact everyone was standing and singing /dancing along.
I kept thinking the Rams were going to start blowing out the Bengals at any moment. That never happened. The Bengals would not quit. The last drive of the game had everyone on their feet. What a finish!!!! Wow!!!
We ate, we drank, and had a blast. I'm trying to figure out how I can go to the Superbowl in Las Vegas in 2 years. What a great experience!!! Thanks so much!!!"
-Keith Gates