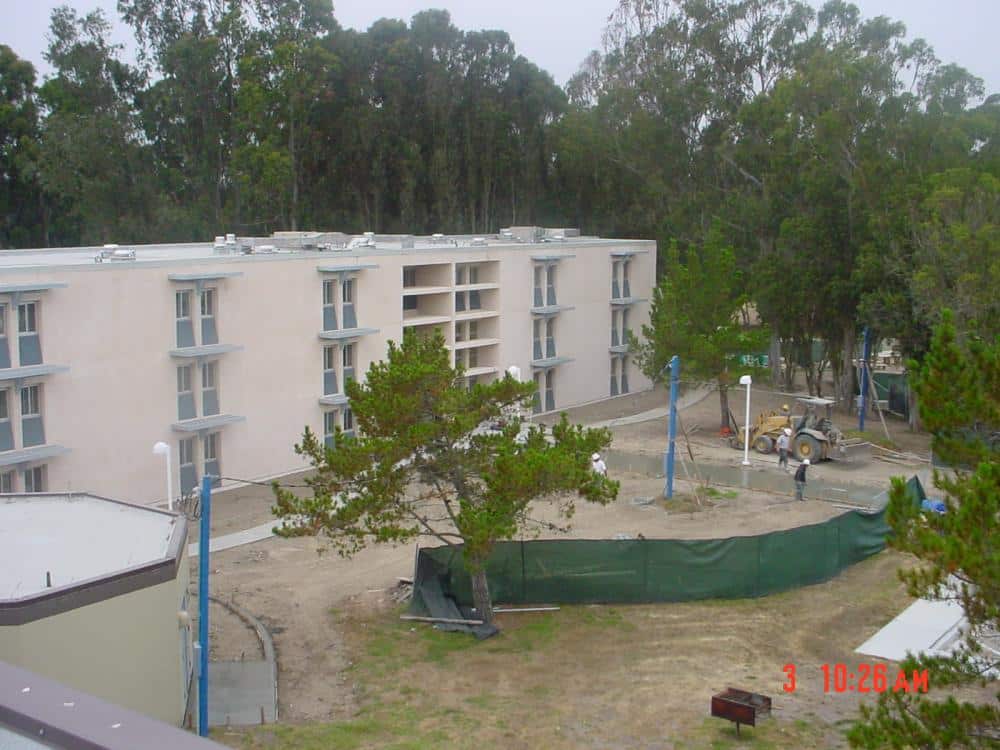 Vandenberg Air Force Base, Vandenberg, California
Cost: $4.4 Million
Duration: 483 Days
Status: Completed
Stronghold Engineering, Inc. served as the prime contractor for the Titan Dormitory Renovation design build project, located at Vandenberg Air Force Base, California. The 25,806 sq. ft. project required a complete three-story dormitory repair and upgrade and site construction work, and renovated 68 dorms rooms with the following: full bath; kitchenette, including microwave, two burner cook-top with a Ceran surface and micro-fridge; two data/phone jacks, two CATV jacks and numerous electrical receptacles; and community/service core areas, including three lounges, mail room, three housekeeping/janitor closets, six-station laundry facility, linen closet, dorm manager administrative office and storage room.
Scope of work included: demolition, grading, trenching and backfill; water, hydronic and natural gas distribution; planting, hydroseed and irrigation; duct and pipe insulation and fire-resistant joint systems and sealants; fire alarm systems; concrete, aluminum fabrications, metal studs and carpentry; steel and wood doors, storefronts, aluminum windows, bath accessories, furnishings and metal cabinets; rooftop air handling units, fan coil units, power ventilators, diffusers and registers; raceways, wires, cables, equipment connections, panelboards, circuit breakers, and lighting and communication systems; plaster, gypsum board, ceramic tile, acoustical tile ceilings, resilient wall base, carpet and painting; and hazardous materials abatement.
As this project was fast-track, partnering was an instrumental component of this project. The building was originally constructed in 1977 as a concrete masonry unit (CMU) structure with a newly replaced built-up roof (BUR), noting that the renovation would pose some challenges. Stronghold and Ravatt, Albrecht and Associates immediately teamed up and secured key subcontractors and sub consultants to "Partner? with the US Army Corps of Engineers. This allowed our A & E to work directly with the trades to maximize constructability. There was one calendar year to both design and construct the project. As a solution, Stronghold proposed (and was granted) demolition at the 50% design stage. Upon completion of demolition, drawings and specifications were completed, enabling construction to begin. With Stronghold completing more than 20% of the work through self performance, this project was completed with the highest level of authority.
---
What They Say…
"[I] wanted to take the opportunity to express my appreciation for the great job Stronghold Engineering has done in partnering with the Government on this very difficult renovation. …There have been many challenges along the way, not the least was trying to design and construct a complete renovation of an existing dormitory in a year. Without cooperation, spirit of teamwork, and overall excellent management of the project, we wouldn't be where we are today?
Harland G. Kroll, Resident Engineer