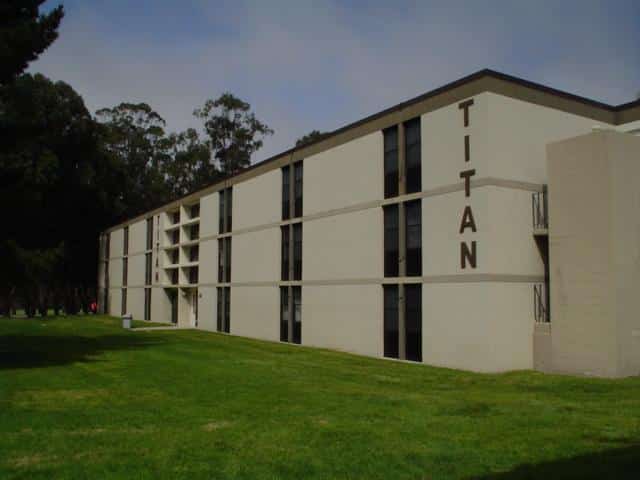 Vandenberg Air Force Base, Vandenberg, CA
Cost: $4.4 Million
Size: 25,806 sf
Status: Completed
Stronghold Engineering, Inc. served as the prime contractor for the $4.3 million Titan Dormitory Renovation design build project, located at Vandenberg Air Force Base, Calif. The 25,806 sq. ft. project called for a complete three-story dormitory repair and upgrade and site construction work. 68 dorms rooms were renovated with the following: full bath; kitchenette, including microwave, two-burner cook-top with a Ceran surface and micro-fridge; two data/phone jacks, two CATV jacks and numerous electrical receptacles. The renovation of community/service core areas included three lounges, a mail room, three housekeeping/janitor closets, a six-station laundry facility, a linen closet, a dorm manager administrative office and a storage room.
Scope of work included demolition, grading, trenching and backfill; water, hydronic and natural gas distribution; planting, hydroseed and irrigation; duct and pipe insulation, fire-resistant joint systems and sealants, fire alarm systems; concrete, aluminum fabrications, metal studs and carpentry; steel and wood doors, storefronts, aluminum windows, bath accessories, furnishings and metal cabinets; roof top air handling units, fan coil units, power ventilators, diffusers and registers; raceways, wires, cables, equipment connections, panel boards, circuit breakers, lighting and communication systems; plaster, gypsum board, ceramic tile, acoustical tile ceilings, resilient wall base, carpet and painting; and hazardous materials abatement.
Energy efficient features included Energy Star-rated HVAC equipment, R-11 exterior walls, Low E insulated windows, water saving plumbing, shower and toilets.
LEED/sustainable features included complete reuse of building shell; carpet with recycled content; CAT5 cable for future upgrades; rooms with flexible electrical configurations; one-hour fire rated walls for sound and fireproofing; low water usage landscaping; improved indoor air quality; recycling and waste management; site improvements to reduce impervious areas and reduce rate and quantity of storm water runoff; and exterior light pollution reduction using exterior pole site lighting with shielded lenses and horizontal lamping. Each room has its own electrical sub-panel, and the building's water and sewer are split into five discrete systems for ease of maintenance and minimal disruptions to occupants.
---
What They Say…
"…There have been many challenges along the way, not the least was trying to design and construct a complete renovation of an existing dormitory in a year. Without Stronghold's cooperation, spirit of teamwork, and overall excellent management of the project, we wouldn't be where we are today."
Harland G. Kroll, Resident Engineer