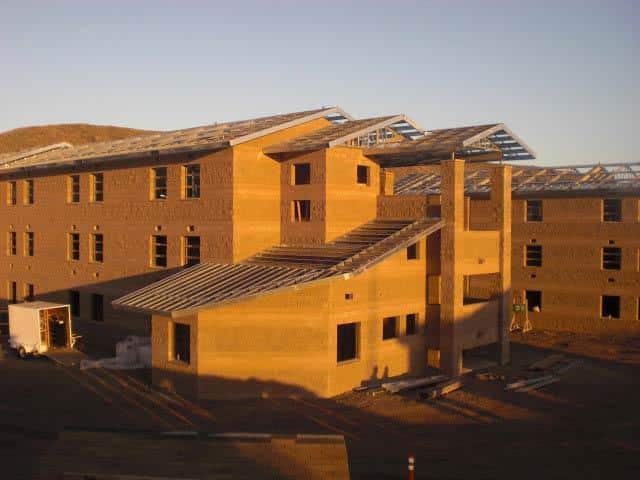 San Clemente Island, California
Cost: $24 Million
Installed Modules: Photovoltaic and Wind Turbines
Status: Completed
Stronghold Engineering, Inc collaborated with Ravatt, Albrecht & Associates, and the U.S. Department of the Navy on the $26.8 million design build of the Bachelor Enlisted Quarters (BEQ) Project on San Clemente Island, California (Island). The Island is the southernmost of the eight California Channel islands. It lies 55 nautical miles (nm) south of Long Beach and 68 nm northwest of San Diego. The Island is approximately 21 nm long and is 4.5 nm across at its widest point. Since 1934, it has been owned and operated by various U.S. naval commands.
The logistics of a ground up 32,184 squares foot project, constructed of a concrete masonry unit (CMU) exterior shell, while preserving the fragile diversity and operation of such a critical mission facility is challenge enough. Add LEED Gold certification, installation of vertical access wind turbines, and the relocation of a 30,000-gallon wastewater treatment facility and the project becomes the epitome of excellence in construction. Stronghold began the project in early 2011 dedicated to delivering the project to the Navy and exceeding their expectations and goals for the facility.
The Stronghold team produced an exemplary net-zero project with no power from the grid. Two three-story buildings with metal frame roofs were constructed, which included 44 two-bedroom units with a common kitchenette and bathroom. The building's fixtures and surfaces were all high-end, quality products, made in America and barged to the Island for construction. Originally, it was a site with three 2-story buildings. The team transformed the site by first demolishing the existing, structurally inadequate buildings. Due to the extremely environmentally sensitive site, all construction waste was barged off the island and 85% was diverted from landfill and recycled.
One unique requirement of this project was the relocating a Wastewater treatment plant (WWTP) capable of treating 30,000 gallons per day of raw domestic sewage. In order to relocate it Team Stronghold first created a temporary bypass for the existing sewage line that fed into the current wastewater treatment plant. With a bypass line installed, Team Stronghold constructed the new aboveground WWTP to full function before tying into the existing line. This created minimal downtime, approximately 1 ½ – 2 hours. Once the new treatment plant was operational, the temporary bypass was removed and the site was cleaned and cleared, with the new sewage treatment plant online to assist with the additional load of the new BEQ's. Because the sewage treatment plant was installed adjacent to the dining facility, the Team took into account equipment noise levels.