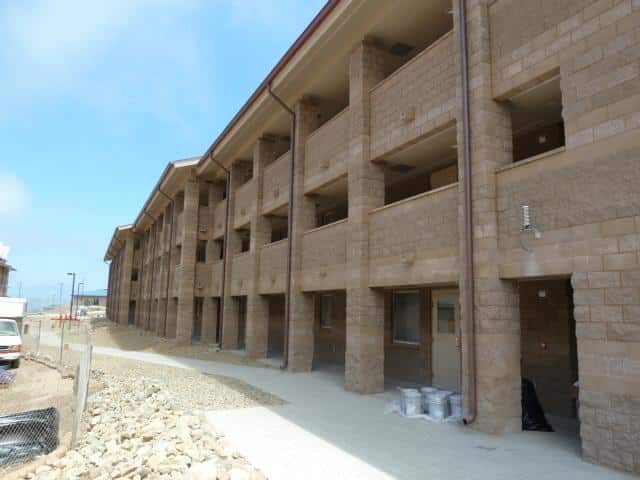 San Clemente Island, California
Cost: $26.8 Million
Size: 32,184 sf
Project Type: Design Build New Construction
Status: Completed
The Design Build, ground up construction of the Bachelor Enlisted Quarters Project on San Clemente Island is a 32,184 sf project constructed of CMU exterior shell, metal stud truss roof framing with a composite roof. Construction of these barracks will also include substantial sustainable characteristics including; a total of 62 kW photovoltaic system mounted on the roof, a 30,000 gallons/per day waste water treatment plant, solar domestic hot water system, wind turbines and xeroscape parking lot and site amenities.
The project broke ground in early 2011 and has been going strong ever since. The location of the project, San Clemente Island, sits 68 nautical miles west of San Diego and is a critical range facility, home to 300 military and civilian personnel. As the only ship to shore live fire range, San Clemente Island provides critical training for naval surface fire support, air to ground tactics and special operations while its close location to major naval bases provides an efficient use of taxpayer dollars.
With the work taking place on an island, logistics and pre-planning are critical. All materials are barged to the Island, including potable water and supplies. Work crews are flown to the island and housed in modular housing erected as part of this contract. The original contract for this project required the design be LEED Silver. Through the design process enhancement modification were made and the project is currently on target to meet LEED Gold.
---
What They Say…
"Stronghold Engineering has worked with us very well in the design phase to ensure a well designed product and a successful addition to San Clemente Island"
Lt. J.G. Liwei Chen, NAVFAC Southwest Construction Manager